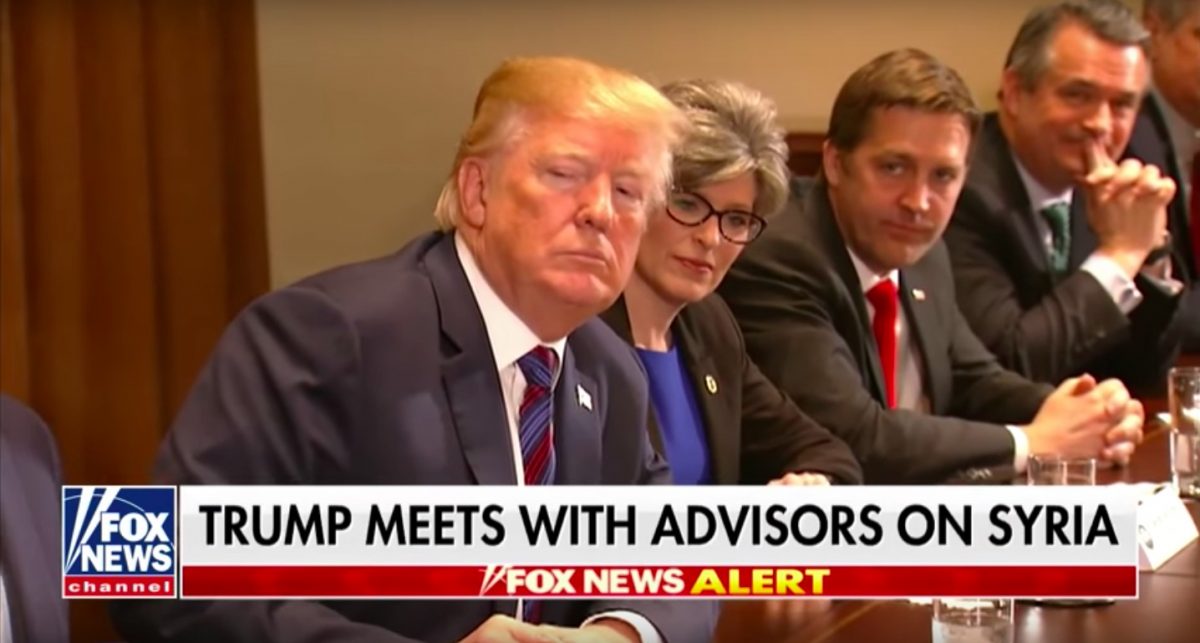 The art of distraction: it's what lifted President Donald Trump to national prominence as a billionaire businessman in New York City, and eventually floated his shockingly successful presidential campaign into the White House.
Trump has repeatedly used Twitter, public speeches and his power over the branches of government to distract from negative press surrounding a looming investigation into Russian interference in the 2016 election. It should be no surprise that the president — a mastermind at manipulating the media and controlling the national conversation — may be considering an explosive distraction in Syria to take away from former FBI Director James Comey's upcoming tell-all book and accompanying press tour.
Comey has already begun sitting for interviews with major news outlets as his publisher is planning a first print run that's over five times the size of Michael Wolff's release for Fire and Fury. There appears to be no love lost between the two: excerpts from Comey's book reveal countless digs at the president, comparing him to a mafia boss and detailing personal conversations they had about an alleged tape showing Trump with Russian prostitutes peeing on each other in a bed former President Barack Obama and Michelle Obama once slept in while visiting the country.
Meanwhile, Trump's allies have launched an all-out smear campaign against Comey, creating the site LyinComey.com and using excerpts from Democrats expressing their discontent with the former head of the federal agency after the election. The book appears to be on Trump's mind as well, as the president has attacked Comey in recent days on Twitter, calling him a "a proven LEAKER & LIAR," as well as "weak" and an "untruthful slime ball."
From Fox News' lips to Trump's ears
Fox News' Ainsley Earhardt posed the question Friday morning on Fox & Friends (Trump's favorite morning show): "If the president and France and the U.K. decide to strike Syria, don't you think that story would be a bigger story than Comey's book released on Tuesday?"
It's an astute observation of the president from one of his biggest fans. After more than a year of watching Trump lead the nation, the American public should be just as familiar as Earhardt with the next few steps he can be expected to take. Each time a scandal has beleaguered his White House administration, the president resorts to his infamous tactics of distraction. (Did you notice that he chose today to pardon 'Scooter' Libby?)
When he hasn't been tweeting about Comey, Trump's been warning of an impending strike against Syria after an alleged chemical attack injured hundreds in Douma. The likely airstrike against President Bashar Assad's regime is yet to be confirmed and will likely include numerous factors determined in part by his shuffling team of national security advisers.
As cynical as it sounds, it is entirely fair to presume that one of those factors will almost certainly be the news cycle back home on U.S. soil.
Distraction is a tool Trump has employed throughout his entire life in a constant effort to avoid bad press. When his ex-wife Ivana Trump made headlines about the fallout of their divorce in the early 1990s, Trump would call newspapers masquerading as his own personal assistant, giving himself the nickname "John Barron" and occasionally "John Miller" so he could make exaggerated claims about his sexual relationships with women.
When the 71-year-old Manhattan businessman went up against lifelong politicians in the 2016 election, he created nicknames for each of his opponents based on the exact terminology they used against him. Sen. Ted Cruz (R—TX) — who referred to Trump as a "pathological liar" — was deemed "Lyin' Ted." When former Secretary of State Hillary Clinton began addressing Trump's numerous reported violations as a real estate developer in Manhattan, she was soon dubbed "Crooked Hillary" by the man who once called her a "terrific" person who worked "really hard." Not to mention, the future president would repeatedly question whether his female opponent was wearing a wig along the campaign trail, while most analysts were pondering the same question — but about him, not Clinton.
Somehow, Trump even managed to avoid the destruction of his candidacy while scores of women came forward with allegations of sexual misconduct against him. Perhaps his setting up an impromptu press conference right before a historic debate and pointing the media's attention to three women who claimed former President Bill Clinton sexually assaulted them as well helped create some false double standards between him and his opposing competitor.
Either way, those criticizing Trump's alleged affairs were drowned out by a distraction the candidate produced himself.
The only difference between Trump's tenure as a real estate mogul in Manhattan and a candidate traveling the country with his current position as the leader of the free world is that he now has the capability of distracting the American public with an international crisis.
It's a shocking assumption to make that the president could use his power as commander in chief for personal or political gain. And yet, arguably one of Trump's most pointless and divisive distractions as president has involved the military, when he ordered the barring of most American transgender people from serving in the military. That decision arrived just hours after he signed a massive and controversial omnibus bill on a Friday in late March — two days before porn star Stormy Daniels would appear on 60 Minutes for a blockbuster interview with Anderson Cooper about her alleged affair with the president.
Trump has gone back and forth on U.S. involvement in Syria after launching an airstrike on a Syrian air base last year, after he reportedly felt "compelled to act" by seeing imagery of the young victims of a chemical attack in the town of Idlib. What he does next in the region could have a sustaining impact on international relations, and may even provoke a war of global significance.
Trump's Commerce Secretary Wilbur Ross later recalled the 2017 airstrike on Syria as the president's alternative to "after-dinner entertainment" during his Mar-A-Lago visit with Chinese President Xi Jinping. 
"Just as dessert was being served, the president explained to Mr Xi he had something he wanted to tell him, which was the launching of 59 missiles into Syria," Ross said during an economics conference in May. "The thing was, it didn't cost the president anything to have that entertainment."
By Friday afternoon, it appeared the White House had fully immersed itself into the battle between Trump and Comey, with Press Secretary Sarah Huckabee Sanders unleashing a tirade against the reporters in the room for covering his forthcoming book, predicting they will report on it throughout the weekend and all of next week.
"This is nothing more than a poorly-executed PR stunt by Comey to desperately rehabilitate his tattered reputation and enrich his own bank account by peddling a book that belongs in the bargain bin," she said. "One of the president's greatest achievements will go down as firing Director James Comey."
"We shouldn't be praising James Comey, we should be putting him down," she later added.
Of course, the domestic news cycle over Trump's latest scandals should have no influence over the president's decision-making at a critical moment like this in world history — but we should know by this point that what "should" happen never seems to be the determinative factor in this presidency.
[image via screengrab]
—
Follow Chris Riotta (@ChrisRiotta) on Twitter
This is an opinion piece. The views expressed in this article are those of just the author.