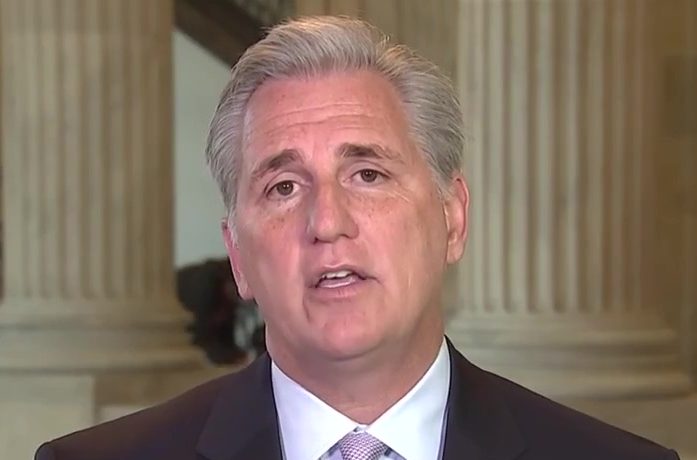 Rep. Kevin McCarthy reportedly told fellow GOP leaders during a meeting last year that he thought Donald Trump was being paid by Russian president Vladimir Putin, in audio obtained by The Washington Post.
From the Post report:
A month before Donald Trump clinched the Republican nomination, one of his closest allies in Congress — House Majority Leader Kevin McCarthy — made a politically explosive assertion in a private conversation on Capitol Hill with his fellow GOP leaders: that Trump could be the beneficiary of payments from Russian President Vladimir Putin.

"There's two people I think Putin pays: Rohrabacher and Trump," McCarthy (R-Calif.) said, according to a recording of the June 15, 2016 exchange, which was listened to and verified by The Washington Post.
Dana Rohrabacher, "Putin's favorite congressman" who was once under consideration for Trump's secretary of state, has a odd history of vehemently defending the Russian president.
According to the Post, House Speaker Paul Ryan "immediately interjected, stopping the conversation from further exploring McCarthy's assertion," and even "swore the Republicans present to secrecy."
What's more, the lawmakers had just emerged from talks with Ukrainian Prime Minister Volodymyr Groysman, who "had described a Kremlin tactic of financing populist politicians to undercut Eastern European democratic institutions."
McCarthy was reportedly prompted into discussing potential ties between Trump and Putin as news had just broken the day before of detailing Russia's hacking of the Democratic National Committee.
More juice from the Post:
Some of the lawmakers laughed at McCarthy's comment. Then McCarthy quickly added: "Swear to God."

Ryan instructed his Republican lieutenants to keep the conversation private, saying: "No leaks…This is how we know we're a real family here."

The remarks remained secret for nearly a year.
The report notes that "it is difficult to tell from the recording the extent to which the remarks were meant to be taken literally."
The Post reached out to Brendan Buck, a spokesman for McCarthy, who called the report "absurd and false," but when informed of the existence of a recording of the conversation, described the comment as a "a failed attempt at humor."
After the Post story was published, Buck took to Twitter to defend his statements, claiming McCarthy's comments were "an obvious joke."
Goodness, I don't lie. Period. What was presented to me originally was far different than what they ultimately presented: an obvious joke.

— Brendan Buck (@BrendanBuck) May 17, 2017
Read the full transcript of the audio recording, made available by the Post, here.
This fresh bombshell from The Washington Post comes as President Trump's administration is still reeling from a number of other controversial reports raising questions of possible connections between his election campaign and Russia.
UPDATE –– 6:53 pm ET: McCarthy was predictably ambushed by reporters after the news broke, and said his comments were a "bad attempt at a joke." Watch:
VIDEO: Majority Leader Kevin McCarthy says the WashPost story on Trump/Putin $ was bad attempt at a joke pic.twitter.com/RdH8ezZNIK

— Alex Moe (@AlexNBCNews) May 17, 2017
UPDATE –– 7:39 pm ET: McCarthy has now tweeted about the report, insisting it was a joke:
This was an attempt at humor gone wrong. No surprise @WashingtonPost tried to contort this into breaking news.

— Kevin McCarthy (@GOPLeader) May 17, 2017
[image via screengrab]
—
Follow Aidan McLaughlin (@aidnmclaughlin) on Twitter
Have a tip we should know? tips@mediaite.com
Aidan McLaughlin - Editor in Chief