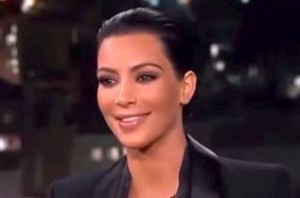 Kim Kardashian is so, so over talking about Taylor Swift. She sat down with Billboard this week, and when asked about it she said, "Ugh, do we really have to talk about Taylor Swift?"
Apparently we do. The feud really began, of course in 2009, when Kanye West stormed the VMAs stage to protest Swift's win. It was reignited this year, when West released his song "Famous," which includes the lyrics, "I feel like me and Taylor might still have sex / Why? / I made that bitch famous." Kanye said she knew about the lyrics in advance, Taylor said she didn't, and Kim eventually posted a video to prove that Taylor did in fact know…kind of. In the eyes of the public, however, the Kardashian Wests won this battle.
It hasn't really died down. Just this weekend, Kanye got a Nashville crowd riled up about the situation.
Kim, however, is done.
She told Billboard, ""I'm so over it… If it were up to Kanye, it all would probably never have come out. He can handle it, he has no hard feelings. He doesn't even really care. I just wanted to protect my husband. I saw him getting a lot of sh*t."
Kardashian also claims she didn't even want it to be a whole thing- though, they did devote a significant portion of a Keeping Up With The Kardashians episode to it. Plus isn't everything they do "a thing?" No, she says. "It wasn't even about a look or anything, or to have this feud — it was like, 'OK, here's the truth.' Done. Let's all move on. I feel like I don't want to talk about her anymore."
[image via screen grab/ABC]
[H/T Vulture]
Follow Dana Eisenberg on Twitter.
Have a tip we should know? tips@mediaite.com