Lots of People Aren't Happy That Bono is One of Glamour's 'Women of The Year'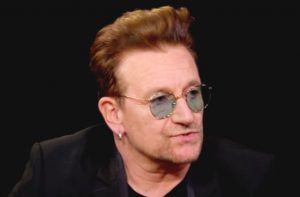 This year, Glamour's 'Women of The Year' list includes Simone Biles, Gwen Stefani, and Bono. Yep, you read that correctly. Bono is on a Women of The Year list. As you might imagine, a lot of people are unhappy about it.
The U2 frontman certainly deserves recognition for the work he does. As Christian Amanpour acknowledges, "It's not every superstar (or, for that matter, statesman) who can bring about $100 billion in debt cancellation for 35 of the world's poorest countries, or persuade the U.S. government to pony up the largest contribution ever for lifesaving AIDS drugs in Africa, as President George W. Bush did in 2004."
It's also not every man who would create an initiative called Poverty is Sexist. There is a strong link between gender and poverty and the campaign aims to help the poorest women on the planet.
Of the award, Bono says, "I'm sure I don't deserve it… But I'm grateful for this award as a chance to say the battle for gender equality can't be won unless men lead it along with women. We're largely responsible for the problem, so we have to be involved in the solutions."
While some people support the magazine's decision, many are quick to say it's sexist and are calling Glamour out on Twitter:
Can't believe Bono is getting a Woman of the Year award before the truest feminist allies in music pic.twitter.com/AQKW9A6qpL

— Lenny Burnham (@lennyburnham) November 1, 2016
everytime something bad happens in 2016 i think there's no way this can be topped & then i find out Bono is Glamour's "Woman of the Year"

— Nilam Atodaria (@NilamAtodaria) November 1, 2016
Bono from U2 won Woman Of The Year.

Still trying to figure this one out

— Sophia Banks (@sophiaphotos) November 1, 2016
Does Glamour Magazine know giving Bono the "Woman of the year" award for trying to undo patriarchy undercuts the entire point of the award?

— Travon Free (@Travon) November 1, 2016
Yet another award for women goes to a white cis dude. WTF @Glamour?!? Instead of highlighting an amazing woman, we get moar Bono? SMH https://t.co/bElNptW6Hx

— MC Stardust (@Summer_Ash) November 1, 2016
[image via screen grab]
Follow Dana Eisenberg on Twitter.
Have a tip we should know? tips@mediaite.com