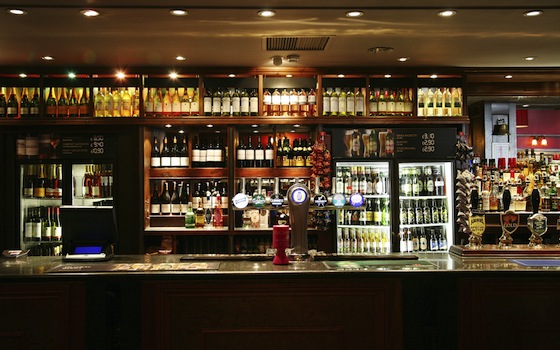 Earlier this week Huffington Post reporter Elise Foley started innocently tweet-shaming DC for having ridiculously obvious bar names. Policy, Recess, and Recessions are all real-life DC bars, she pointed out, tweeting "nerds, all of you!" DC being chock full o' nerds is definitely nothing new, but who knew the nation's fine capital was also teeming with meme-busters ready to fill the letter, number, and diagonal State-named streets with even dopier drinking establishments?
Even this editor right here, a DC native, was not expecting #FakeDCBars to turn into such… a thing. But our friends down I-95 had other ideas. Here we are two days later and the followers are still eking out their ideas before the weekend. (They know none of these bars will exist this weekend, right?).
Here's a sampling of our favorites from the food scene meme du jour. The originator owned her brainchild, making the list twice, and her first is our favorite. We would def have bloodies with Elise at The Furlough. Call us?
The Political Variety:
GITMO. Where its never closing time. #fakedcbars

— Yousef Munayyer (@YousefMunayyer) May 30, 2013
DC's hottest new club is Sequestration, where your tab keeps growing even as they serve you less and less. #fakedcbars

— Hayes Brown (@HayesBrown) May 30, 2013
I can't seem to find Transparency. It was suppose to open in 2008. #FakeDCBars

— Orlando Watson (@orlandowatson) May 30, 2013
The Meme Decoded Variety:
[topical political figure]'s [mildly relevant buzzword from the scandal du jour] [drinking-related double entendre] #fakedcbars

— Caitlin Kelly (@atotalmonet) May 30, 2013
The True Facts About DC Variety:
The Decently Priced Place Nearby With Good Food and Drink That Has Listenable Music, Smart Talkers and Absolutely No Douches #fakeDCbars

— Adam Weinstein (@AdamWeinstein) May 30, 2013
The Novelist Variety:

"So….what do we do now?" I ask my friends. Theodora slips an arm around my waist. "Wanna get a drink at Crisis?" #FakeDCbars

— Phil (@PhilthePill) May 30, 2013
The You Might Work In A Restaurant Variety:
#FakeDCBars glass warfare: where some guy is allowed to cut to the head of the bar's line

— alexhutchinson (@alexhutchinson) May 30, 2013

*Full disclosure, I know this dude.
The Journalist Variety:
"Totally messed up something at work. Meet me at the Burned Source?" #fakedcbars

— Elise Foley (@elisefoley) May 30, 2013
The Tweet Came From Inside The Braiser Variety:

D.C.'s hottest bar is PotoMacDaddy. This bar has everything: janitors, a guy who thinks the Newseum is cool, human chili bowls…#fakedcbars

— Tina Nguyen (@tina_nguyen) May 30, 2013
The Original, And The Best:
"I've got nothing to do today, want to meet at The Furlough at noonish for bloody marys?" #fakedcbars

— Elise Foley (@elisefoley) May 30, 2013
Related:
Stars And Shade: The US Michelin Inspectors' Sassiest Tweets
The Latest In Published DC Enemies Lists: Food Lobbying Groups
WATCH: The U Street Taco Will 'One Day Murder Guy Fieri'
Have a tip we should know? [email protected]