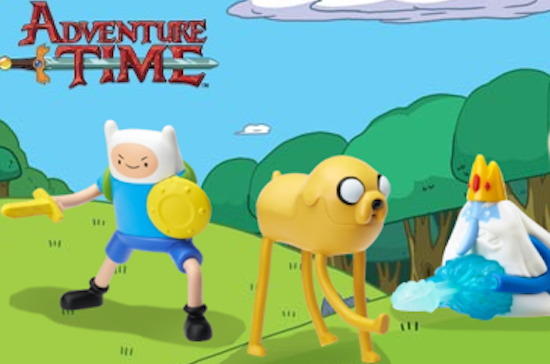 In what should have been an incredible coup for an awesome television show, McDonald's announced that it would be adding Adventure Time toys to its Happy Meals starting January 17th. Everyone loves Adventure Time: boys, girls, teenagers, adults, Anthony Bourdain, some Braiser writers who went as Princess Bubblegum for Halloween two years ago, etc.
So why, Serious Eats wonders, is McDonald's only marketing the Adventure Time toys towards boys?
Below (via McDonald's) you'll see what we're talking about: all four of the Adventure Time figurines available are male characters (with the exception of BMO, the talking, maybe-gendered gaming console), while concurrently, they're running an explicitly pink, girly, Paul Frank Happy Meal toy promotion.

This blunder wouldn't be totally egregious if McDonald's decided to promote, say, a simultaneous Hot Wheels or Barbie Happy Meal toy campaign, but to single out Adventure Time as "for boys only" goes against the very ethos of Adventure Time itself. The animated show is notorious for its strong female characters, who exist outside the context of getting dudes to fall in love with them — the scientific genius Princess Bubblegum, the brazenly confident Lumpy Space Princess, the daredevil Marceline — and likely the reason that ladies, even grown-ass women like myself, freaking love this show.
Does that make sense? Here's a quote from the series creator, Pendleton Ward, on why he happens to be the only person capable of writing real women characters:
With the female characters it's easy to either write them as clichés or write them as the extreme opposite of those clichés. I feel like a lot of girl characters in anything usually end up being either extremely tough or extremely ditzy. There's always some sort of extreme personality trait that they have. I like to try writing girls that feel like normal people, like normal women that you'd meet in real life.

So I just try to make them have faults and strengths just like [the protagonists] Finn and Jake have. …I am conscious of all the ladies in the show, and I just want them to feel fun and like people that you'd want to meet in real life.
So why are we writing about this on a food news blog? Mostly because McDonald's is the one perpetuating this nonsense. Stop it, McDonald's.
RELATED:Your Morning Tweet: Oh My Glob, We're Scared Of The Bourdains' Sexy Adventure Time
PR Firm Suggests Comic-Con Nerds Visit Anthony Bourdain's Favorite Places In Tijuana
In Honor of the Failed McResources Website, The Best Worst Advice from McDonald's
Have a tip we should know? [email protected]