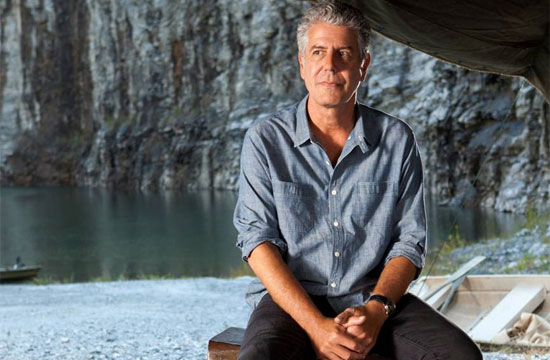 Anthony Bourdain is continuing his angel tour defending the good people of Iran, by publicly speaking out for a Washington Post correspondent and his wife who were mysteriously detained in Tehran.
As Bourdain explains it in a WaPo op-ed, he met Jason Rezaian and his wife, Yeganeh Salehi, while filming an episode of Parts Unknown and dined with them at a restaurant outside of Tehran. And Bourdain makes it clear that Rezaian, who has been accused by the Iranian government of spying, and Salehi are all but passionate advocates for their country.
Jason and Yeganeh looked happy, too — and deeply proud of their heritage and the country they were helping to show me. They wanted the best for it, and they were great emissaries on its behalf. … And they came back, again and again, to the importance of Iran's connection to the past, to the Persian Empire and to an ancient language that is still spoken today.

They acknowledged the difficulties of living in a nation very different from the United States, where they had last lived. But they were clearly in love with Tehran, and they spoke respectfully and affectionately of the country they lived in.
Based on the accusations against Rezaian, Bourdain says he "can't possibly imagine" why they've since "dropped off the face of the Earth." And to go back to just how nice he thinks the people of Iran are, he talks briefly about filming Parts Unknown there:
I think this fall, when people watch the episode I filmed there, they will be surprised, whatever their feelings on the politics. It will challenge their assumptions, just as my trip challenged mine. Jason and Yeganeh helped me to look at their country more deeply and with an open heart.
You know, Bourdain, if you have a spare second, we could maybe use you as an ambassador to Iran … just saying.
RELATED: The Nicest People Anthony Bourdain Ever Met Were in Iran
Have a tip we should know? tips@mediaite.com