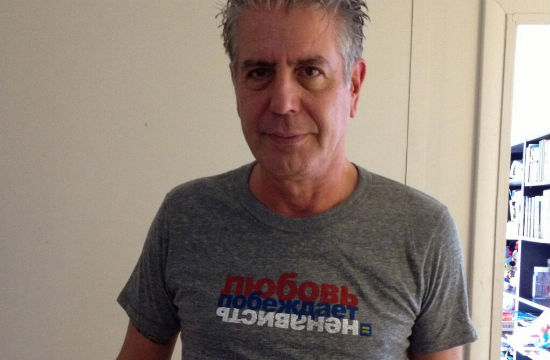 In a clusterfuck of poor timing, NBC Universal is slated to broadcast the games of the 22nd Winter Olympiad in Sochi while Russia continues to uphold its laws banning the distribution of "homosexual propaganda" to minors. What does that even mean? It means that Tilda Swinton could be detained and deported for this, which is ridiculous, because TILDA CAN DO NO WRONG, YOU FOOLS.
But it's problematic for other reasons, too. Like that, technically speaking, the International Olympic Committee (IOC) prohibits discrimination of any kind in the Olympic Charter, which states:
"The practice of sport is a human right. Every individual must have the possibility of practising sport, without discrimination of any kind and in the Olympic spirit, which requires mutual understanding with a spirit of friendship, solidarity and fair play…Any form of discrimination with regard to a country or a person on grounds of race, religion, politics, gender or otherwise is incompatible with belonging to the Olympic Movement."
SERIOUSLY, GUYS, WE LOVE THE OLYMPICS SO HARD.
But anyway, continuing to harsh our vibe, is Vladimir Putin, who assures us that gay athletes will toootally be welcomed and that no one will be made to feel uncomfortable. Getting punched in the face doesn't count as discomfort, right?
The Olympic Charter also states that the IOC must "act against any form of discrimination affecting the Olympic Movement," which they're kind of doing a shitty job of at the moment by basically refusing to acknowledge in any meaningful way things like that Johnny Weir's sparkly butt could get arrested for passing a rainbow flag to an admiring Russian teen. Furthermore, the United States National Olympic Committee (NOC) is urging gay athletes to "comply" with all Russian laws, including this one, just as they would with any other country's laws during any other Olympic Games. NBC Universal — prepare your bodies for shock — is also turning a blind eye.
So, this is frustrating.
The Human Rights Campaign has organized a tidy list of six demands from the IOC to make the best of the situation without boycott, which even Johnny Weir agrees is not the answer. They even made this exotic Russian version of their iconic #LoveConquersHate tee, which guess who is modeling in support:
"@Bourdain: Irritate Russia & @Olympics for LGBT equality. Visit http://t.co/cPm7Jpy9t8 and @HRC pic.twitter.com/X3NOZyt5Na"

— Anthony Bourdain (@Bourdain) November 4, 2013
Because if the IOC and the US NOC and NBC Universal are all going to half-ass their anti-discrimination stance, then you might as well start a glib gay rights campaign with the slogan: "Irritate Russia."
In conclusion, gratuitous Tilda: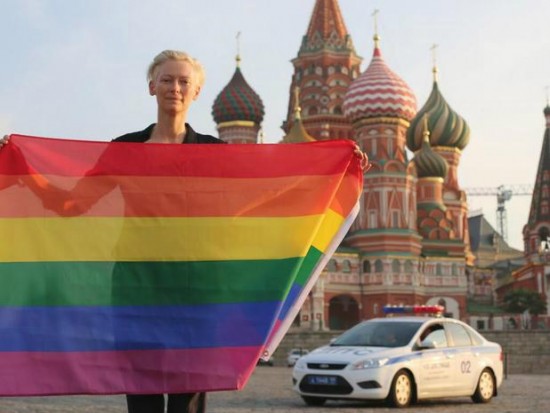 [Twitter]
RELATED:
Bourdain Backs Seal Hunting, Slams Chefs Boycotting Canadian Seafood Products
Padma Lakshmi Continues Tour of Activism, Hosts Gala Benefiting Homeless LGBTQ Youth
Anti-Gay Barilla Pasta Tapped Ted Allen for Nationwide Campaign Back in the Days of Queer Eye
Have a tip we should know? [email protected]