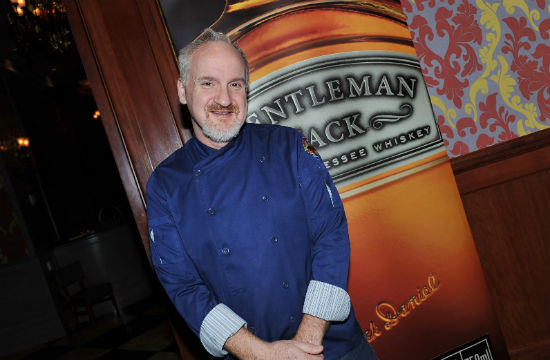 Art Smith is a man known for multiple things: fried chicken, being friends with power bitches, faaaaaabulousness, and, more prominently, his 50-pound weight loss. (It's hard when one's life revolves around fabulous fried chicken bitches.) But despite his physical triumph, it's apparently damaged his professional image, and we're flabbergasted by this story.
In an interview with The Examiner, Smith, a diabetic who wrote a new cookbook about his weight loss, revealed that he lost a network television deal because — get this — he wasn't fat enough. Apparently fat chefs are more credible chefs. "They wanted a heavy-set chef just eating food across America, and I wouldn't do that. I'm not going to be one of the types who is going to eat 50 doughnuts," he explained. "That's not the type of message I want to put out there."
Weirdly enough, it may have been Smith's health-consciousness that lost him the deal. He explains the concept thusly:
"The word diet and the word gourmet really bother me because they segregate people from the table and from food. One is like 'I'm not going to eat enough' and the other one is too fancy to eat. I felt like I wanted to bridge the two together because I want to show people that they could have their health and feel comfortable about it."
Ha! As if TV executives think that America is ready for someone to teach the masses how to diet. All we do is cling onto our fried chicken buckets and our bacon religion. We're too dumb for Art Smith and his health-conscious, lifestyle-improving ways. Let's eat fifty doughnuts right now.
[Examiner]
RELATED:
Art Smith's 'Teeny-Weeny' Green Speedo Gets Love From PEOPLE Magazine
Art Smith Challenges His Husband To Become First Same-Sex Couple To Climb Kilimanjaro
WATCH: Art Smith Got Moby To Perform At His Wedding By Promising A Vegan Afterparty
Have a tip we should know? tips@mediaite.com