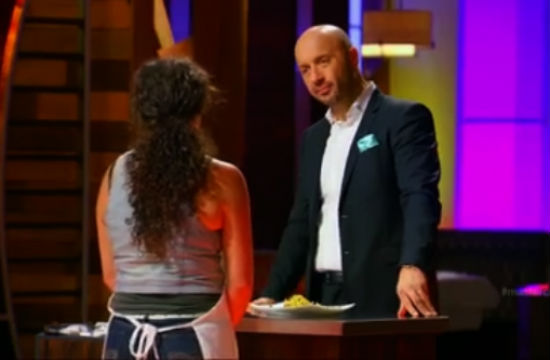 Is it just us, or does everyone seem incredulous that Joe Bastianich could be even remotely popular in Italy? Or even in the United States?
That's what one new Eater profile of Bastianich, of MasterChef fame, seems to suggest. It first details his very prolific Italian-American roots, including an extensive history of his parents (including one Lidia Bastianich) and their journey to Fruili, as well as his own journey to New York and chef fame. The best lines that seem to question any sort of reason for Bastianich's fame (emphasis ours):
Call it a sign of the times in Italy in which a brash TV persona is a proven path to fame. But Bastianich and his Italian celebrity are more complicated than that and whether he enters Italian homes on the pages of tabloids like Chi and Oggi, magazines like Vanity Fair and GQ Italia, or via Sky's hit show MasterChef Italia, Bastianich is here to stay.
On my first visit to Orsone [a Bastinich restaurant in Fruili] in August 2013, the "Restaurant Man" known for his abrasive TV persona worked the room as the consummate host, jumping behind the bar to pour his wines, pampering VIPs, and signing autographs for school-children whose parents snapped their photos with the famoso Joe. At the time, MasterChef Italia was between its second and third seasons, Bastianich was overseeing the opening of Orsone, and his Italian stardom was in full swing.
Bastianich's appearances on MasterChef Italia, characterized by explosive tirades, gave rise to more than a few internet memes based on vitriolic critiques of contestants. Viewers were immediately intrigued by this Italian-American restaurateur with a distinct accent, endearing malapropisms and a critical persona. And in a society in which upward mobility — especially for immigrants — is a rare occurrence, the Bastianich's Italian-American success story and entrepreneurial spirit is a curious anomaly.

Public opinion is divided but his popularity is certainly due to his masterful ability to craft a television persona that demands attention and exudes confidence and expertise.
This is essentially written in the passive-aggressive tone of an Italian grandmother handing out backhanded compliments.
Continuing on, there's this little gem that shows what Bastianich is really thinking, now that he's decided to move on from the U.S. version of MasterChef (emphasis ours):
He told Fine Dining Lovers, "I feel like I reached the end of the road with MasterChef in the US. It was a beautiful experience and it changed my life, but it had run its course. I would like to spend more time in Italy. I don't have other restaurants in mind at the moment, but I'd like to do more TV about food and other topics. I want to prove to myself and others that I can become a TV personality beyond the theme of food and that I am not just fortunate because I have lived a life immersed in food."
So, is it not just about setting down roots in Italy as we, and evidently Eater, had presumed? Is this more about fame than restaurants? Most importantly, what other types of TV shows could Bastianich appear on? We are envisioning so many "Mckayla is not impressed" memes of Bastianich silently judging Project Runway or something. Bastianich was always the terrifying judge in the trio of MasterChef judges — albeit with a softer side we loved seeing on MasterChef Junior — which perhaps is why we have a hard time imagining him doing anything else. Perhaps we too should let ourselves be surprised by whatever Bastianich ends up doing next.
[Eater]
Have a tip we should know? tips@mediaite.com