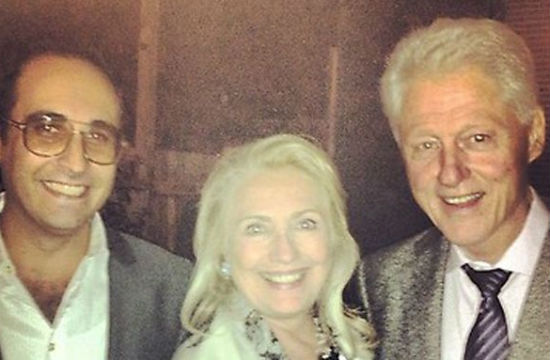 In a divine aligning of the stars, GrubStreet just so happened to tap Roberta's chef de cuisine Max Sussman for their weekly food diary column on the very weekend that he served The Clintons during a private event held at the resto. The Former First family stormed Bushwick in attendance of top Democratic donor Susie Tompkins Buell's 70th birthday party, prompting many a hipster cry of, "Welp, there goes the neighborhood."
Max wouldn't divulge the extra-special vegan offerings Roberta's cooked for certain heart health-conscious 42nd Presidents of The United States, but he did provide us with a general sense of the menu, so you can at least imagine what Secretary of State Hillary Clinton and daughter Chelsea ate at the party. Dished Max:
"[Saturday] night was the private event, so I tasted everything that they were going to be eating. We had three canapes. Shrimp cocktail — we poached the shrimp with homemade cocktail sauce. Pumpernickel toast with beef tartare and watercress. And smoked ricotta on crostini with black pepper and honeycomb. We also served them big old racks of pork we cut into pork chops, with sautéed kale, and roasted delicata squash."
Smoked ricotta with black pepper and honeycomb? Perfection, obviously. We do wish we knew what Billiam was chowing down on, but before you even go there in your minds, the infamous marijuana tasting menu at Roberta's is for super secret food journalists only, and is totally not vegan. Because vegan-restricted munchies would be a bummer.
Have a tip we should know? tips@mediaite.com