DadBoner Has Some Totally Awesome Menu Suggestions For Guy Fieri's New Restaurant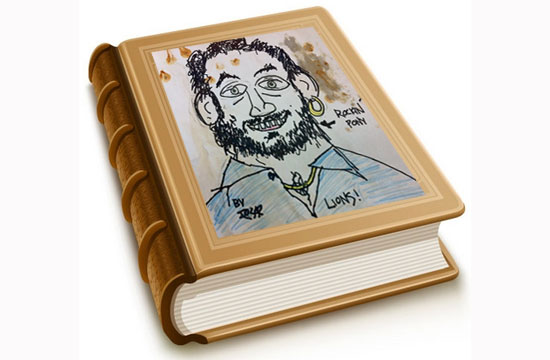 Won't someone give DadBoner a book deal already for his brilliant Guy Fieri menu? Especially since the comedian, famous for things like an original script for Roadhouse 2: Pain Still Don't Hurt starring Guy Fieri, just wrote a menu that is probably eight kajillion times kewler than any item at Guy's American Kitchen. Ya got BEAT, Fieri.
To be fair, this is an attempt by DadBoner (aka "Karl Welzein") to attract Fieri's attention by helping him out with an appetizer menu to convince him to star in the movie, though it's hard to imagine that Fieri wouldn't be attracted to the concept of carnal babes and the prospect of gatorpagne (a klassy kombo of Gatorade and champagne.) If we were Sammy Sifton at the New York Times, and if we were also robo-tripping, we'd give his menu four rockin' stars, for the following two apps that are totally on point:
WALKIN' THE DOG 'CHOS:
Don't worry, these ain't made with man's best friend, but they're gonna be yours! (wink) Hearty chunks of 100% all beef hot dogs, smothered in Guy's Famous Tender Pork Chili, tomates, cool sour cream, 13 kinds of shredded melty cheese, jalapenos for a real kick, all served in a FAMILY SIZE sack of Salsa Verde Doreets with some forks for sharin'. Perfect for cruisin' 'round the bar with, peepin' babes. Such a great convo starter. "'Sup babes, wanna dip in my Doreets sack? It's full of bold surprises. Go on and grab a fistful." Man. (add on a cup of the soup of the day for $6.50)
$24

SLIP 'N SLIDERS
Made with Guy's classic burger meat recipe, these sliders aren't somethin' you'll want to let slip away. Each mini sammy is covered with #1: Burger meat. #2: 2 deboned chicken wings, (smothered in Guy's Famous Jack Daniels Million Alarm Habanero Chicken Wing Sauce), #3: Guy's Famous Famous Jalapeno Mexicali Cole Slaw, and #4 More burger meat instead of a top bun. Served "south of the border wet style," slathered in a generous portion of Guy's Famous Southern USA Country Gravy. So money. (add a house salad for 3 bucks)
$28
We rest our kase. If someone doesn't kapitulate to his demands for movies and book deals, we're gonna kry.
[Craigslist, h/t our resident DadBoner aficionado, @emily_williams.]
Have a tip we should know? tips@mediaite.com