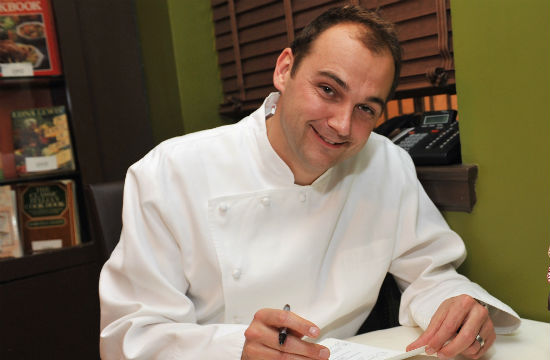 We heard some music snobs got cranky during the Comparing Chefs To Rock Stars Fad. We also heard some chefs got cranky during the Comparing Chefs To Rock Stars Fad. But standing up for a peaceful synthesis of music and food is Eleven Madison Park's James Beard Award-winning executive chef Daniel Humm. The Swiss born and raised chef recently sat down for a radio interview with WLS, during which he confessed that musicians have directly influenced the cuisine at Eleven Madison Park. Among his inspirations are jazz legend Miles Davis, The Rolling Stones, and Apple. (Okay, Apple isn't a rock star in the conventional sense, but Apple is kind of a rock star).
"I've been reading and studying a lot about Miles Davis and I think Miles Davis has influenced this restaurant so much," he dished, citing Davis' improvised, "collaborative" style, his definitive "cool" factor, and how he was "constantly reinventing himself" as qualities infused into the restaurant's menu.
Daniel also finds himself attracted to the controlled chaos of The Stones. "The Rolling Stones seemed very loose and wild, but when you read about them, you realize that everything they did is very deliberate," he explained. "Even if they're doing something crazy on stage -— destroying a guitar or something —- it was planned…That also is inspiring."
If Eleven Madison Park is on the road to conquer World's Best Restaurant (and owner Danny Meyer says it is), then Apple gets a nod in the acknowledgments as well. "How visual they are and how simple they make everything seem" encourage Daniel's plating and execution of his 16-ingredient menu grid.
Listen to the rest of the interview here for more on Daniel's grocery shopping on a budget tips (more vegetables), his guilty pleasure snack (sour gummies), and the first time he tasted fast food (at age 19!).
[WRS]
Have a tip we should know? tips@mediaite.com