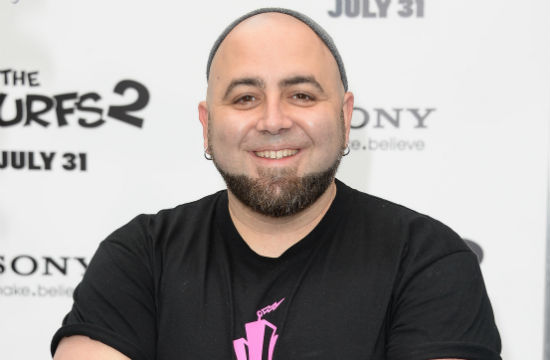 You know that our favorite game is Let's Kardashianify Celebrity Chefs/Bakers/Pâtissiers, right? Of course you do. Just take a look at our enthusiastic coverage of E!'s 6-episode docu-series Playing With Fire, which followed such prominent New York Food Scene figures as Chef Edward Cullen, The Doucherstein Twins, That Girl Who Keeps Getting Fired, and The Food JournLOList,
Well, E! is giving us yet another glossy food show: this time, a one-off special about the Los Angeles desserts scene, called LA Sugar. Among the hip pastry famouses the special will cover is Duff Goldman, of Charm City Cakes West, whose storyline will deal with a certain former N*Sync member's birthday cake. According to E!:
"Clients of Chef Duff Goldman of Charm City Cakes West, like Victoria Beckham, Tina Fey, George Lucas and Jay Leno, know that his cakes are amongst the best in the business. In the special, Duff is up against a tough deadline when the daughter of actor and former N'Sync member Joey Fatone must have a monster of a cake made for her doting dad in time for his birthday. No task is too small for Duff and his team, but the timeframe may be! Instead of having two weeks' notice to plan, Duff needs to knock out a masterpiece in three days. When the decorating doesn't go quite as planned, Goldman feels even more pressure to get this one-of-a-kind birthday cake just right."
How does Joey Fatone have an adult daughter, but Justin Timberlake has yet to grace the world with offspring? We're sure this mystery and more will be solved by Duff, all wrapped up with an important life lesson learned from cake.
You can tune into LA Sugar on Tuesday, July 30th at 9pm ET.
[Zap2It]
RELATED: Todd English Is Filming A Reality Show On The E! Network, For Realsies
Playing With Fire's Julie Elkind Leaves Delicatessen After Just 4 Months
Duff Goldman And Friends Present: Sharknado Cake
WATCH: Couples Shamefully Underbid For Duff Goldman Wedding Cake On The Price Is Right
Have a tip we should know? [email protected]