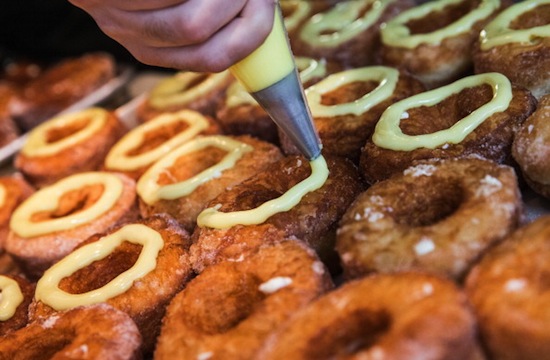 Better luck in 2014? Just don't tell Alice Waters.
A new study from Gallup basically already tells us what we know; we ate terribly in 2013. Fewer Americans self-reported eating healthy during 2013; when asked the question if they ate healthy "yesterday," only 64.5 percent said yes during October. In October 2012, 67.1 percent said yes. The numbers come from more than 150,000 phone calls made between January and October of this year.
It wouldn't normally be so alarming, but 2013 as a whole is going down in the record books as a fattier year compared to 2012. 2012's percentages of people who ate healthy hovered at about 65 to 66 percent; while 2013's number hover anywhere between 62 and 64 percent. The Huffington Post also notes that produce consumption is also down in 2013. And it's only going to get worse now that it's officially December. Said the researchers in the report:
"Both healthy eating and produce consumption tend to decrease in November and December, likely attributable to Americans' indulging during the holiday season … "As the U.S. obesity rate continues to increase across almost all demographic groups, it is critical that Americans begin to eat healthier and exercise more."
Well, no shit Sherlock. So now let's take our educated guesses at where we went wrong in eating right in 2013: Cronuts? Ramen burgers? Oh Alice Waters, save us all!
RELATED:
Michelle Obama Announces Muppet Advertising for Fruit and Vegetable Companies
7 States Resume Buying 'Pink Slime' for School Lunches, Point to Budget Cuts, Nutritional Standards as Culprit
WATCH: 'Organic Water' That's Made Out Of Juice? Must Be The Product Of A Ludicrous Kickstarter
Have a tip we should know? [email protected]