Eric Ripert is Speaking Out Against "No Tipping" Trend and it's Kind of Awful
Recently, Danny Meyer, Tom Colicchio, David Chang, and several other well-known players in the restaurant industry have announced that they're going to get rid of gratuity at some or all of their restaurants. It's a move that, in general, customers and industry-professionals alike have been supportive of. It's better for service staff (for the most part), and it's definitely better for cooks, who are paid very little and whose income isn't supplemented by the generosity of restaurant patrons.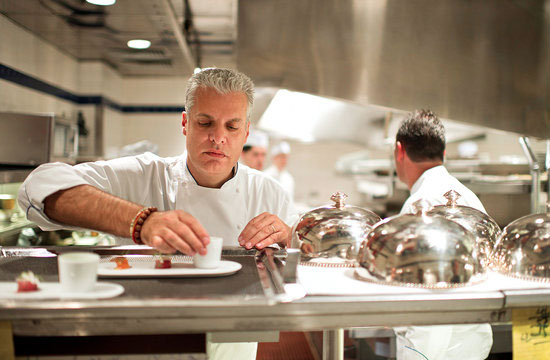 Eric Ripert will not follow the trend. In an interview with The Daily Meal, Ripert defends sticking with what he says has so far worked. He says that his employees like it, customers like it, and that "only the government benefits from no tipping." He also thinks that customers should have control over their bills.
When restaurants have tipping policies, they not only offset some of their costs onto the customers (why should I be paying Eric Ripert's employees? Isn't that his job?) but it also means he's leaving his employees' pay in the hands of his customers. We've all heard stories of nightmare tippers. The people who just write something nasty on the check, those who tip $1. Is that the kind of control over a bill he's talking about? Other times, people don't leave tips, but it's not on purpose. Meyer says he's seen waiters cry over European diners who don't leave tips, because it's not part of their culture.
Ripert also asks why a customer should pay 30% more for the same product. Valid. Kind of. But, 30% is not entirely accurate. Eater says that most of Meyer's menu items will increase between 21 and 25%. In practice, if, as he suggests, the system works, isn't the customer paying about 20% more for any product anyway? Does it really make a difference where it appears on the check?
Some would say yes. Originally, Meyer's idea didn't go over well with his staff, even the ones who were at times disappointed by bad tippers. They wanted to work for their money and for pay to be based on performance. But, I suspect that it's just that nobody likes change. More and more restaurants will likely eliminate tipping, sooner than later, and once it's practice, it won't seem so odd. Ripert doesn't need to change his policy, but with something like this that, thus far, seems so positive for the restaurant industry, why is he coming out against it?
Have a tip we should know? tips@mediaite.com