Carson Reacts to Muslim Group Members Attending SOTU: They're 'Not Pro-American'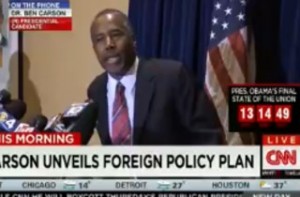 Reps. Zoe Lofgren (Calif.) and Alcee Hastings (Fla.) invited representatives for the Council on American-Islamic Relations to be their guests at tonight's State of the Union address and at least one presidential candidate is not happy about it.
Dr. Ben Carson appeared on CNN's New Day today and said of the group, "They have done things that are clearly, you know, not pro-American." He went on:
"These are people who I have called for an investigation of. We can't now sit there and say these are buddy-buddies of ours, [so] let's go ahead and investigate the thing. If they are our buddies, let's put that clearly out there. And if they're not our buddies, let's not be giving them access to the ability to further carry on what they call a civilization jihad and to change us from a Judeo-Christian foundation to a Muslim foundation. We have got to be smarter than that."
Carson has previously called for an investigation of CAIR as part of the U.S. war against ISIS.
Of course, the people over at CAIR haven't been thrilled about what Carson has had to say about their organization. Today, they jumped to defend themselves and the chapter members involved, Sameena Usman and Nezar Hamze.
"You've got a presidential candidate whose campaign is circling the drain and he's doing anything he can do to spark some sense of relevance," said CAIR national communications director Ibrahim Hooper almost dismissively to POLITICO. "Anti-Muslim bigotry worked for him in the past so he thinks it may work for him again."
Ouch.
h/t The Hill
[image via screengrab]
For more from Lindsey, follow her on Twitter.
Have a tip we should know? tips@mediaite.com