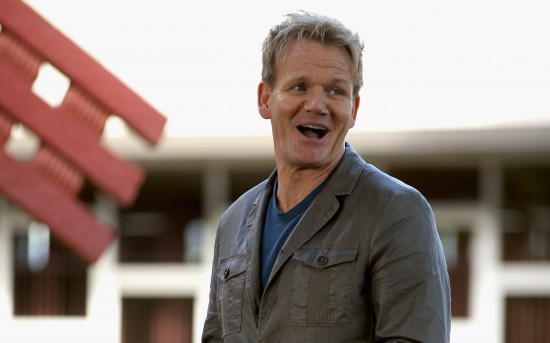 Whoa whoa whoa whoa whoa — people are still going to Gordon Ramsay's restaurants?
Ramsay, better known for his time on MasterChef Junior in our eyes than for opening (or keeping open) restaurants, made claims on a London TV show that someone is out to get his newest restaurant, Heddon Street Kitchen. And it's all thanks to those pesky online reservations. Ramsay says that of the 140 bookings he had for the first night open last Saturday, only 40 of them showed. From the Independent:
Speaking on ITV's The Jonathan Ross Show, Ramsay was asked by the presenter, "Is there a rivalry within the industry you suspect that people want to undermine you?"

Ramsay replied, "I think there's all that level of envy. Saturday was our first big day opening (of Heddon Street Kitchen). We had 140 on the books and we had 100 no show. So someone's literally online…"

Ross asked whether it was deliberate and Ramsay replied, "Yep, sabotage. It's bad spirit and you see the staff and they are down and frustrated, I was there to pick them up and make sure we stay focused. Now we're going to reconfirm every table."
Let the speculations begin as to who would book 100 tables online as professional sabotage!
If it's true, it's a tough pill to swallow. But are we talking professional envy or professional denial here? Heddon Street Kitchen is just one of 12 restaurants in London that the Gordon Ramsay Group operates, out of 24 worldwide. As Grubstreet reminds us, 23 of the 49 restaurants he has opened has closed. Whatever happened, it's not a good sign to open a new restaurant to empty tables, we imagine.
RELATED: Gordon Ramsay Launches Ironman Training Club (Oh, and Some Charity Organization)
Most Adorable Moments in Season 2 Premiere of MasterChef Junior
"Why is Kitchen Nightmares Most Infamous Couple, from Amy's Baking Company, Threatening Customers With Knives?
Have a tip we should know? tips@mediaite.com