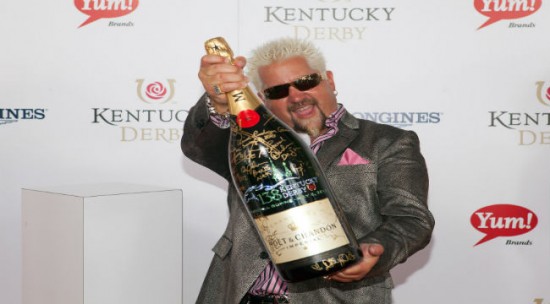 The circumstances surrounding the theft of Guy Fieri's $200,000 Lamborghini sound like an irritated rival chef punking the platinum-haired Ed Hardy factory. In a very James Bond-esque operation that went down in 2011, a car thief rappelled from the roof of the British Motor Car Distributors dealership in San Francisco, where Guy's 2008 Lambo Gallardo was not-so-safely tucked away, slid into the vehicle from the window, and drove off into the night with it. Except it wasn't another chef; it was allegedly a 17 year old kid named Max Wade.
The car was recovered last month in a storage unit belonging to the teen, who, by the way, is now looking to be tried as a minor. We'd normally be impressed with his fancy (alleged!) grand theft auto skillz, but he was initially arrested for shooting at a teen couple comprised of a girl who had scorned him and her boyfriend, which, sadly, keeps him firmly on the World's Dumbest Criminals list.
Meanwhile, Guy is quite pleased to have his little yellow midlife crisis sports car back in his loving arms. He issued a remarkably humble, non-obnoxious (and, thus, clearly crafted by his PR team) statement saying, "I would like to thank the Marin County Sheriff's office and the Mill Valley Police Department for their hard work and effort in the recovery of my car…I'm glad we can put this behind us, and feel better knowing that justice is being served."
We just feel better knowing that someone who allegedly shot at a girl who rejected him is, at the very least, on trial.
[TMZ, Mercury News]
Have a tip we should know? [email protected]