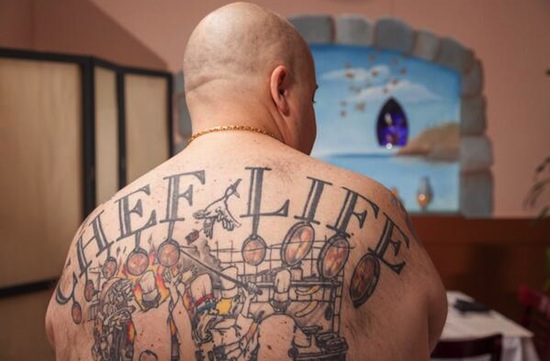 Uh, how are we just finding out about this cookbook that features hot chefs with tattoos? We are always in need of more chef eye candy!
For real though, we're dying over this Eat Ink cookbook, as profiled by Men's Journal. Eat Ink's co-creators, Daniel Luke Holton and writer Birk O'Halloran, told Men's Journal that the project started as a real curiosity about the stories behind chefs' wild tattoos; among the chefs in the book? Iron Chef Marc Forgione, Justin Warner, Seamus Mullen, Duff Goldman, and Andy Ricker.
@cheftony and his epic #cheflife tattoo. #chef #tattoo pic.twitter.com/9PL2o31e5U

— Eat Ink (@eat_ink) November 27, 2013
About the book:
Professional kitchens have traditionally been an unseen haven for many of society's misfits, but recently they have been transformed into stages as the world's obsession with great food and great chefs continues to grow. Knuckle tattoos that once excluded a person from many careers have become a badge of honor and the tattoos are now a testament to their commitment to their craft.
Well put. So for real, we're just going to be Twitter-stalking @eat_ink for more pics and chef eye candy. (Might we suggest a partnership with the Chefs That Are Babes Tumblr? We can think of one certain chef that would fit well in both categories of tatted chefs and hot chefs.)
Photo: chef on a chef. thanks alex! #fst #frithstreettattoo http://t.co/5JK0QBo0pN

— sarah carter (@s_carter_tattoo) January 26, 2014
RELATED:
WATCH: Tom Colicchio Shows Off His Top Chef New Orleans Tattoo on WWHL
Bobby Flay Blasts Young Chefs: They Think 'A Tattoo And A Bottle Of Sriracha Equals Success.'
Poll: What Should The New Bourdain Family Tattoo Be? Pork Chops Vs Winged Dicks?
Have a tip we should know? tips@mediaite.com