E! Gossip Piece Scrubbed from Site After Ellen Page Slammed It in Coming-Out Speech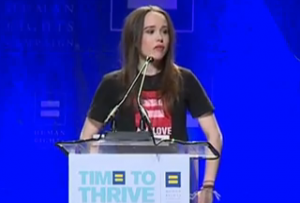 In her big coming-out speech Friday night, actress Ellen Page took down gender stereotyping in the media and called out one site for writing a piece ribbing her for wearing clothes that didn't conform to certain standards of what people would expect her to wear. She didn't call it out by name, but the original piece came from E! Online and following her speech, the gossip item has mysteriously vanished from the website.
The piece was about Page wearing sweatpants, and the author asked, "Why does the petite beauty insist upon dressing like a massive man?" In her speech, Page responded: "Because I like to be comfortable."
The piece is not accessible on the E! website, but it was archived on IMDB, and this is what it read, in part.
Not only did we write a whole post about Ellen Page dressing way too much like a street-sleeper, but we followed up with a piece begging her to undergo a Style 180 in 2014. And now, this. We're starting to wonder if the former Juno star is actually homeless… Obviously that's not the case, but then why does the petite beauty insist upon dressing like a massive man? If this is some attempt at going incognito, it's not working.
There is a link there to the original post, but nothing shows up.
E! Online's post on Page's coming-out does not mention that particular part of her speech.
You can watch her speech here:
[photo via screengrab]
— —
Follow Josh Feldman on Twitter: @feldmaniac
Have a tip we should know? tips@mediaite.com
Josh Feldman - Senior Editor