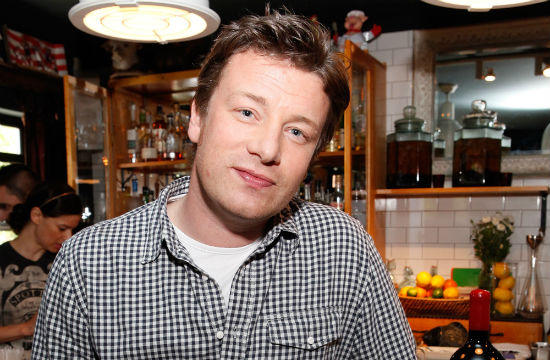 When he isn't busy filming school children's very first encounter with a to-mah-to, Jamie Oliver is executive producing his latest BBC America cooking competition show: Chef Race: UK vs US. We understand that it's all been done before, but Jamie really outdid himself this time and smashed together a head-spinning number of ripped-off concepts to create his latest show.
As you can surmise from the title, Chef Race: UK vs US takes on an Amazing Race/Around the World in 80 Plates format, with chefs racing across the United States from Los Angeles to New York, completing various cooking challenges along the way. Unlike our Bravo fave (/sarcasm), however, the Chef Race contestants won't have any money and only limited resources with which to cook. Interesting. So, are we to assume they'll storm the kitchens of innocent civilians? Beg restaurants to please let them borrow a saucepan or two? Cook a meal made of vending machine offerings on a motel hotplate? All of the above sounds like a gastrointestinal joy for the judges, whoever they are. Oh, wait, we know! Richard Corrigan (MasterChef) will serve as the chefs' mentor and Claire Robinson of Food Network's 5 Ingredient Fix will host the series.
And, of course, we can't forget the bi-continental competitive factor. Eight American chefs will be racing eight British chefs for the title and prize of $100,000 (furnished by someone ridiculous, presumably). Is this Jamie Oliver's answer to America's Next Top Model: British Invasion? Yes.
Okay, no, but seriously. Here's why he says his show is totally innovative and ground-breaking and, thus, why it's worth watching BBC America for something other than Downton Abbey:
"The restaurant business is one of the toughest in the world and to be successful in it these days takes so much more than just being able to cook. You've got to have a good business sense, vision, leadership and so much more. This series is the first time that anyone has really dug deep into what it takes to be successful and it's going to take an incredible individual to win it."
He's basing this all on the no money thing, which, we agree, is a novel twist. But like, do the Brits just accept the US competitors' home field advantage? Is their lack of geographical know-how going to prove hilarious? Scratch that: Is the Americans' lack of geographical know-how going to prove hilarious?
Probably.
So what's the verdict, readers? Will you be tuning in to BBC America for Jamie's show or will you be sticking to Dowager Countess-related programming only?
[Eater]
Have a tip we should know? tips@mediaite.com