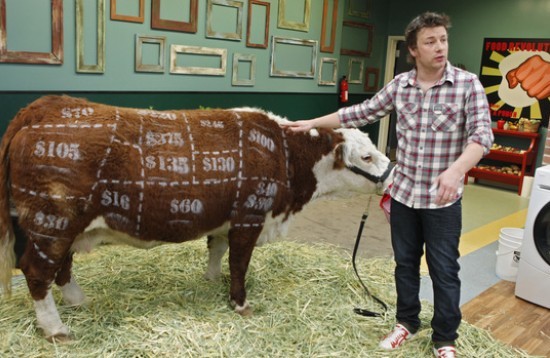 As the old British saying that we just made up goes, "It's not a food scandal until Jamie Oliver throws in his twopence." Which is why certain factions of English society are repeatedly hitting their heads with boards over his latest campaign to fairly compensate dairy farmers, because hey, guess what, he's not fairly compensating his own suppliers.
Recently, Oliver had joined a nationwide campaign to boycott supermarkets and food suppliers who did not compensate British dairy farmers at a rate above the cost of production, which is 30p per liter according to the Telegraph.
But also according to the Telegraph, Freshways, a "mid-market processor" who supplies all of Oliver's restaurants, pays farmers well below the rate of production at 28p per liter.
Oliver's addition to the campaign has already made some mid-to-high-end retailers scramble to ensure the public that they compensate their farmers fairly, so this revelation has provided some much-needed schadenfreude-slash-ammunition to retailers grumpy about that darn meddling Oliver.
"What is it about stones and glass houses? Jamie should have put his own house in order before aiming some cheap shots at us," said an unnamed source in the retail world, likely smirking with some sort of twisted, oligarchical glee.
Nevertheless, the number of dairy farmers in Great Britain has dropped precipitously in the past decade due to low milk prices, and even more are set to close up: herds are thinning, pastures are empty, and cows are being poorly cared for.
And hey, it could be worse: Freshways' farmers are urging Oliver to keep his business with the processor, saying that despite being compensated below production costs, they aren't the biggest a-holes in the business. A representative for Oliver noted that the farmers claim that "the way Freshways purchase their milk from producers at the moment is equal to the top three processors."
Bali Nijjar, Director of Freshways, confirmed that he wanted to pay his farmers more, but that the market prevented him from doing so, and he's currently in talks with lobbying group Farmers for Action to set a better price. "If we do not buy at a competitive rate, the larger dairies will put us out of business," he said.
Have a tip we should know? [email protected]