WATCH: Jon Stewart On Chick-fil-A, Sen. Lindsay Graham, And The 'Gayest Coke' Of All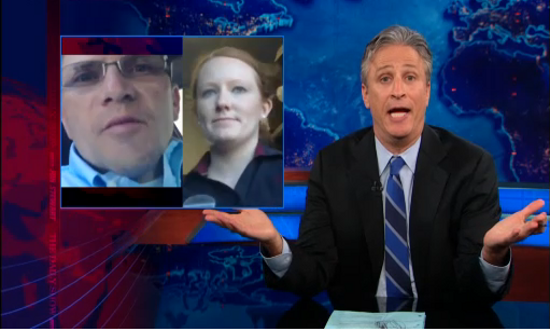 Social media is great for many things: keeping in touch with friends and family, discovering people who share the same interests, and showing the world how much of an idiot you can be. So, with the recent influx of social media use to advertise where people stand on the Chick-fil-A debate, Jon Stewart was ready to poke fun at social media missteps on The Daily Show.
Twitter has recently become the preferred way for conservative Republicans to show their support for Chick-fil-A in the midst of their gay marriage-opposition scandal. Senator Lindsay Graham is the latest political figure to hop on this bandwagon, posting a picture of his fast food breakfast along with a comment about how he enjoys his fried chicken with a nice, cold Coke Zero. However, Stewart is quick to point out that Coke Zero is the gayest Coke of all. "Even diet, caffeine free Coke is like 'Ugh, give it a rest, Coke Zero'".
However, it's not only those opposed to gay marriage who are using social media to speak up. Stewart highlighted the man who filmed himself berating a Chick-fil-A employee at a drive-through window over the company's "hateful" position. But, what was his favorite thing about the rant?
"That dude posted that video himself! He uploaded that to a computer and hit send like, 'Wait 'til the world sees this!'
Well, that and the fact that Stewart thinks the gentleman doth protest too much: "Your company sucks, and I don't blow dudes!" he declares in an impression of what he thinks is the reasoning behind the guys' logic. Whether you agree or disagree with Chick-fil-A's stance on gay marriage, everyone can agree on one thing — that employee definitely deserves a raise.
Have a tip we should know? tips@mediaite.com