MasterChef Runner-Up Arrested After Violent Attack, Claims Gordon Ramsay Possessed Him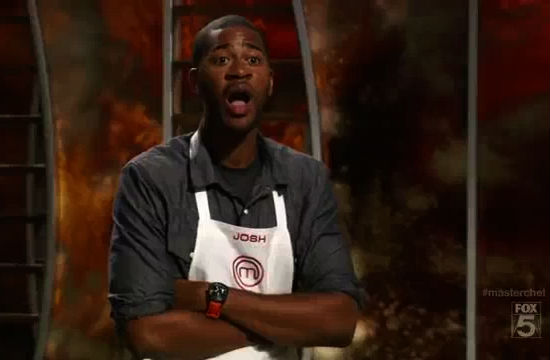 Guys, that's not even a joke headline. That's what actually happened. Last season's MasterChef runner-up Josh Marks had all the makings of an elegant restaurant chef, with pretty remarkable finesse for a home cook, but he ultimately lost out to the competition's first blind contestant Christine Ha, whose specialty was more rustic Asian comfort dishes. Many fans of the show thought he was slighted for the warm and fuzzy production value of a blind contestant winning the show, but it looks like he took the loss a wee bit hard.
Josh was arrested on the University of Chicago campus on Monday, after he was spotted by police trying to use a University emergency phone with cuts to his face. An officer approached asking if everything was okay, and that's when Josh lunged at him, throwing punches, and grabbing for his gun.
According to police, he claimed that Gordon Ramsay, an "asshole," possessed his body and transformed him into God. Despite being batoned and pepper sprayed by the officers he attacked, Josh still managed to break free and run away, eventually requiring FIVE cops to take him down in a residential backyard.
Uh, why yes, it does sound like Marks was high as a kite on a certain dissociative drug whose streetname rhymes with "baneful lust," but there was no evidence of drug use, so there goes that theory. He's just a 7'2″ pepper-spray defying man of steel.
Once he was taken in, Josh blamed the whole episode on Gordon Ramsay (?). He's been charged with assaulting a police officer and resisting arrest, and currently remains chained to a hospital bed.
We'll keep you updated as this, perhaps the most bizarre scandal to come out of MasterChef, which is a feat in itself, unfolds.
[TMZ]
RELATED:
MasterChef Finalists Talk Behind The Scenes Cooking Classes And Tonight's Final Challenge
WATCH: Masterchef-testant Wins Advantage, Then Forgets Key Ingredient
Today In Racism: A Masterchef-testant's N-Word Tweets
Have a tip we should know? tips@mediaite.com