Last Call: Chicago Mayor Rahm Emanuel Demands The City Go Vegan, Everybody Has Foie Gras Ban Flashbacks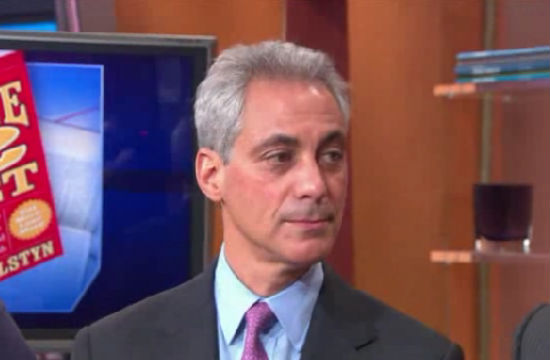 WGN TV: Chicago Mayor Rahm Emanuel is imploring the denizens of his fine city to go vegan. Dude. You can't banish foie gras for two years (we know, we know, technically that was Mayor Daley, but still), then give it back, allowing places like Hot Doug's to serve foie gras-topped hot dogs, then tell Chicagoans they can have their hot dogs legally, but really shouldn't eat them. Cruel.
GrubStreet: Jeni's Splendid Ice Cream has moved from stealing coincidentally copying creative campaigns to shilling "Influenza Sorbet." Basically, it's hot toddy-flavored ice cream that will supposedly cure you of ailments. You know, with the most disgusting flavor name ever.
Huffington Post: The proprietors of a bakery in the UK have racked up so many health violations of such severity so many times that they've actually been banished from the food industry permanently. That's what happens when signs designating which room is which are simply etched into the black mold covering your walls.
Eater: New details have emerged regarding Tom Colicchio's newest Las Vegas restaurant — like the name, and how it doesn't have the word "craft" anywhere in it. But, Tom, how will they know it's by you?
Bon Appetit: Danny Bowien and Daniel Boulud sit down for a chat; swap chicken recipes; discuss Paul Bocuse's tattoos. You know. Average day.
Serious Eats: Someone has invented a gadget whose sole purpose is peeling and de-veining shrimp. Apparently it's sort of tricky to use. We propose a Top Chef "skills" Quickfire in which cheftestants must prep using the five most asinine kitchen gadgets. Check!
Have a tip we should know? tips@mediaite.com