Last Call: Chefs Pose With Adorable Wild Animals At The SoBe Wine & Food Festival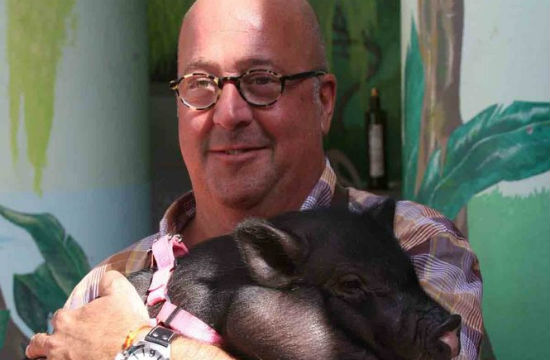 Huffington Post: The Fun and Fit As a Family event at last weekend's SoBe Wine and Food Festival took place at Jungle Island, which, of course, means a slideshow of chefs and adorable animaux exists. Highlights include: Anne Burrell posing with a lemur, and Andrew Zimmern gently cuddling a pig as if it was a sleeping babe.
Tasted: Have you always wondered what buttery, flaky secrets lie inside Momofuku Milk Bar's Cubano Croissant? Executive Pastry Chef Christina Tosi reveals all in this demo on how to make them yourself at home. #1 secret: they're incredibly complicated, and it's probably easier just to hoof it to Milk Bar and buy yourself one.
Grub Street: In this interview, Nigella Lawson confirms what we've suspected about Europe all along — Italians are a warm and inviting people and Frogs are snooty bumbums determined to embarrass you.
Naked Vegan Cooking: A vegan food blog has decided to take its message to the next level with (obviously NSFW) naked cooking. Yes, as in the blog features lots and lots and lots of photos of its moderators cooking dishes in the nude. Nudist vegans. Or middle-of-the-day Food Porn, capital F, capital P. Your choice.
Powerful: As women, we've been feeling awfully selfish that so many steakhouses are endeavoring to create lady-friendly meat palaces, where we can feel comfortable unleashing our inner carnivorous longings. Selfish because no one has extended a similar hand to bros who want to eat Greek yogurt without feeling emasculated. That is, until now. Behold: Brogurt. You're welcome, guys at the next desks over.
New York Post: In ridonkulous Soda Ban news (not to be confused with sensible Soda Ban news), apparently the mandate laid down by New York City Mayor Michael Bloomberg will include bans on carafes of mixers that accompany bottle service at clubs. In other words, the only kosher mixers to serve now are 100% juice or club soda. Somewhere, this brilliant manner of addressing obesity has gone terribly, terribly awry…
Have a tip we should know? tips@mediaite.com