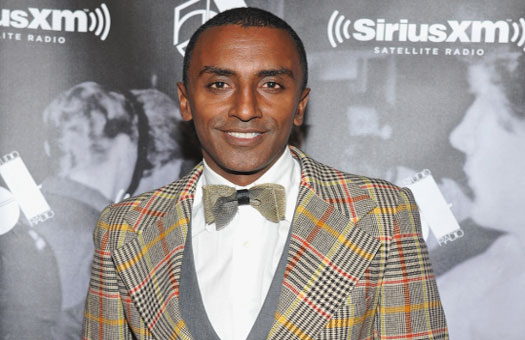 Grub Street: Marcus Samuelsson does not want to talk about the Eddie Huang op-ed any more. The classiest man in the food industry flipped out at reporters who probed him about the incident at his book launch party. Let's all move on and focus on what's really important: Marcus' sweet style.
Daily News: Speaking of Marcus, he is set to appear on the webshow Culinary High TV, where he will teach teens to cook at Red Rooster Harlem. The first episode of the season, which debuts Friday, was filmed at BLT, and the kids learned to make soft-shell crabs. Do you have to be a high school student to be on the show, or can we submit an application?
New York Times: Mark Bittman took a road trip, and discovered that the culinary horizons of the country are expanding. Along with the customary junk food at truck stops, more places are offering healthier, better quality foods. But nothing really explains the existence of dill pickle flavored sunflower seeds.
Eater: KFC has launched a new insane and unappetizing sandwich in the Phillipines, the Cheese Top Burger. It consist of a regular chicken sandwich with cheese melted on the top bun. The question here is not why, but who — as in, who in the hell is in charge of developing new sandwiches for KFC?
Huffington Post: The Dark Horse Brewery from Michigan turned down an offer to have their beer featured in a Nickleback music video, stating they "absolutely hate that band". Further proof that everybody in the world hates Nickleback. Except for Guy Fieri, but he's not exactly known for having great taste.
Daily Meal: A French study found that Coca Cola and Pepsi may contain tiny amounts alcohol. Even though the claim has been debunked, we predict everybody will still get upset over nothing.
Have a tip we should know? tips@mediaite.com