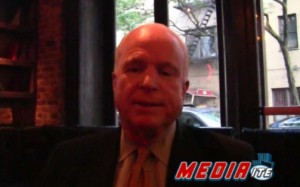 Senator and Mrs. John McCain held a book party in honor of America, You Sexy Bitch: A Love Letter to Freedom, co-written by Meghan McCain and comic actor Michael Ian Black, at New York's Southern Hospitality barbecue and steak house last night, and the Senator generously took time to talk with me about the author in the family. He spoke movingly about his pride in Meghan, and had poignant words for her detractors. I also managed to sneak in a question about health care.
It was the first time I had met Sen. McCain in person, and it was easy to see how he earned a reputation as a favorite with the press. He was a good sport, insisting on doing the interview when others objected, which I rewarded by making him say the title of Meghan's book on camera, at the top of the interview.
Sen. McCain talked about how proud he is of Meghan's professional accomplishments and her independent streak, and how he agonizes with her when she's attacked by horrible people, on the internet and in the media. Not surprisingly, he seems to take those attacks harder than Meg does, as any father would. "You may disagree with my daughter's views," he said, "but they're honestly held. We should have respectful dialog in this country. I debate my Democrat friends in the Senate every day, and frankly, the thing that has profited me the most is that I'm always respectful of their views. Let's be respectful of everybody's views."
The Senator also confessed that his daughter has given him a lot to think about regarding his views on social issues.
Finally, Senator McCain agreed to answer a question about the Republican plan to allow Americans to buy health insurance across state lines. I asked if there was anything in their plan to prevent it from undermining the insurance regulations in the states where consumers reside. The short answer is "no," the less-short answer is that what I call "undermining regulations," Senator McCain views as "competition."
Here's our full interview, from Tuesday night:
Follow Tommy Christopher (@TommyXtopher) on Twitter.
Have a tip we should know? tips@mediaite.com