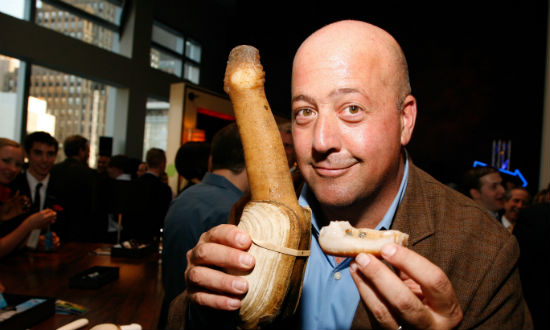 Daily Meal: Andrew Zimmern wants to share some Bizarre Foods with his fans, and is doing so via a food truck, which will begin its cross-country tour in Minneapolis in August. Well, we know at least one person who won't be stopping by…
McSweeney's: Everyone's got that one friend who does it, and now you can let them know how you feel: "An Open Letter To People Who Take Pictures of Food With Instagram". Almost makes you miss people updating their Facebook statuses with cryptic song lyrics, huh?
Gawker: Subway finally explains what the avocado graph in their Olympic commercial represents. Surprisingly, it's not "avocados over time". Who'd have known?
Washington Examiner: A food lobbyist is trying to become a culinary celebrity by shopping a cookbook and applying for Chopped. Clearly he doesn't want fame badly enough, or he'd be on Hell's Kitchen. Those people get screamed at by Gordon Ramsay all day. They've earned their fifteen minutes.
Eater: Chicago's new food truck regulations are causing a lot of controversy — primarily because the fine for parking within 200 ft of a restaurant is higher than the fine for drug possession. But if food trucks become illegal, where will everyone get tacos at lunch?
New York Times: The bidding war for the old Tavern on the Green location is still going strong, with Park Street Ventures from Essex Fells, NJ joining the fight. Surprisingly, this seems to be the one location Donald Trump doesn't feel the need to put his name on. Let's all be grateful for small miracles.
Have a tip we should know? [email protected]