Last Call: It's Pie Issue Time At The New York Times, Get Yer Fancy Grey Lady Pie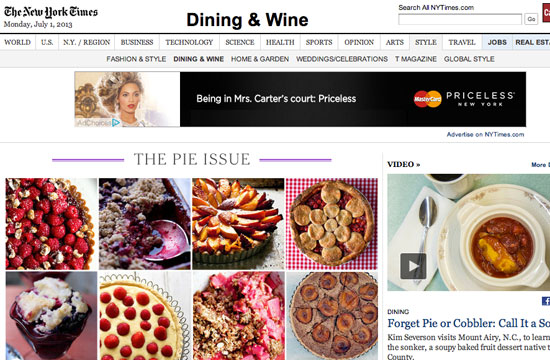 The New York Times: Seriously, (almost) everything in today's Dining section is about pie. For instance, here's Andrew Carmellini discussing his favorite pastry. Could it be that the Fourth of July is, like, three days away?! Oh my gosh, so excited for AMERICA.
Esquire: The one thing that can take away Josh Ozersky's bacon joys, now that the nasty Paula Deen lady has been dumped by Smithfield Farms, is the fact that Smithfield Farms has been bought by a Chinese corporation and will now continue to be a horrible place for animals: "its factory farm system is abhorrent even to the most torpid and unfeeling sectors of our populace."
The Washington Post: DC now has its own personalized flavor of Ben & Jerry's ice cream, filled with "marshmallow, caramel and chocolate-covered cornflakes in Ben & Jerry's signature chocolate ice cream." Honestly, this sounds almost exactly like Stephen Colbert's description of DC in a candy bar:  "The chocolate city with a marshmallow center and a graham cracker crust of corruption. It's a Mallomar, I guess."
The Huffington Post: If only Whole Foods were a corporation full of intellectual property copyrights that could stake claims overseas, and not a brick-and-mortar retail store that can only really work in the U.S.! Otherwise, it could establish a tax haven in the Bahamas and not have to pay any exorbitant taxes, ever, CEO John Mackey actually said in an interview. 
Mystery Brewing: Why are certain beer growlers exploding? Seriously, is this terrorists? Did terrorists get into our hipster beer resources? NOT IN OUR AMERICA, TERRORISTS.
Have a tip we should know? tips@mediaite.com