Last Call: Thomas Keller, Daniel Boulud, Richard Rosendale, And Jerome Bocuse Will Throw You A Dinner Party For $250,000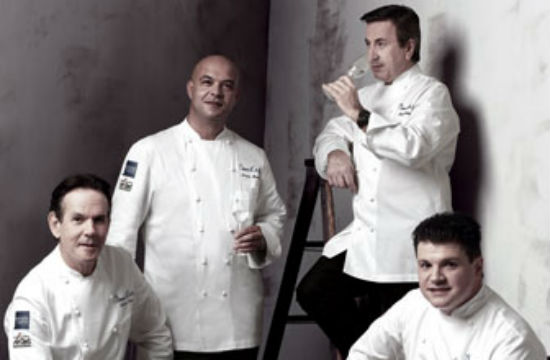 Eater: Neiman Marcus is selling a $250,000 dinner for ten cooked by Thomas Keller, Daniel Boulud, Richard Rosendale, and Jerome Bocuse. Where in our tiny apartments would we fit ten friends, four chefs, and Thomas Keller's ego?
Marylanders for Marriage Equality: Top Chef winner Bryan "The Quiet One" Voltaggio has announced a campaign to match all donations to made to Marylanders for Marriage Equality. He writes in an open letter on the site, "This is about fairness and equality in my state — something that matters deeply to me. Donate today and I will match your contribution." Well, that was unexpected.
Butter and Yolk: In a recent interview, Graham Elliot and Andrew Zimmern likened Detroit to the Wild West of culinary growth. (Just call Graham Elliot Jim West, desperado.)
Andrew Zimmern: The Farm Bill lapsed last week and Andrew Zimmern is not happy about it. If you have no idea what that means, he's written an informative, nonjudgemental blog about it and what you can do to help. Passing the Farm Bill will help us avoid things like an actual baconpocalypse.
Inside Scoop San Francisco Gate: ISSFG rustled up the menu for the Obama fundraiser dinner hosted by Alice Waters and Tyler Florence. Most surprisingly frilly dish? Boudin blanc.
ABC News: A few baristas with 'tude sparked a rumor that there was going to be a Pumpkin Spice Latte shortage at Starbucks. Relax, folks. They ordered more and it's fine. (Please don't tell AZ that people are freaking out about milkshake coffee syrup.)
Have a tip we should know? tips@mediaite.com