LAST CALL: This Free Groceries Prank Will Melt Your Heart This Cold Saturday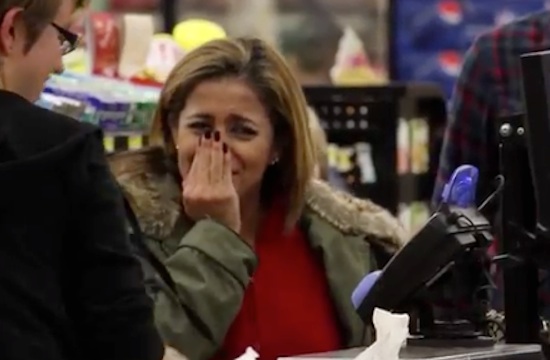 The Huffington Post: We dare you to get through this video of one grocery store picking up the tab for some very surprised customers without tearing up. You've made our year too, GungHo natural supplements. (That sounds weird, but the company sponsored the free grocery movement — apparently, they've picking up people's grocery tabs for 25 years.)
First We Feast: Sometimes, we need a little bit of a boost, so it's nice to get a pick-me-up of inspirational quotes from some of our favorite chefs and people. (And that includes a posthumous inclusion of Charlie Trotter, tear.)
Food & Wine: Hugh Acheson is over your stuffed turkeys, guys. We can get behind the backlash against deep-fried turkeys, but stuffed turkeys? Let me show you how our mom does it, Hugh — we swear, it's the best turkey you'll ever have.
Buzzfeed: GO HOME, CINNABON FLAVORED VODKA (and all other flavored vodkas, actually). YOU'RE DRUNK. CLEARLY VERY, VERY DRUNK.
New Orleans Picayune-Times: Whew, sorry about that guys. Let's end up on a happy note: New Orleans chef Scott Boswell, of Stella and Stanley restaurants, cooked a four-course meal with the help of inmates at New Orleans Parish Prison, with a larger goal in mind: cut back on recidivism by giving inmates marketable culinary skills. On the menu at this very special lunch: vegan gumbo with squash and mushrooms, braised beef short ribs with slaw and sweet potatoes, and freeze-dried bananas Foster French toast. A great idea with what we hope will be a powerful solution.
Have a tip we should know? [email protected]