Last Call: Take A Peek Inside Morimoto's Latest NYC Restaurant, Tribeca Canvas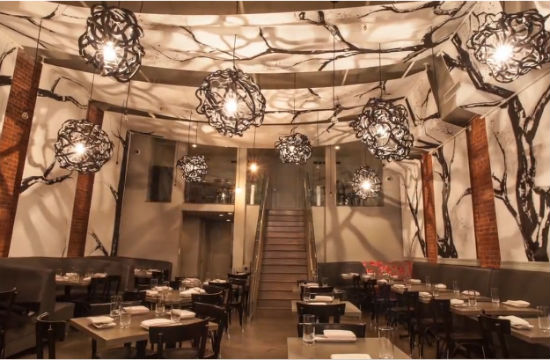 The Daily Meal: Holy designporn, Batman! Check out the gorgeous space at Masaharu Morimoto's latest restaurant Tribeca Canvas, which will be serving up American comfort food, in a refreshing change for the Iron Chef.
Team Coco: So, Pizza Hut-scented cologne is gross, right? Right. Thankfully Conan O'Brien has stepped in with some fast food-scented perfume alternatives, along with corresponding ad campaigns, including a terrifying, ripped Ronald McDonald. Do the girls behind Name That Scent know about this?
New York Times: Hey, that one team of Top Chef Seattle contestants aren't the only ones who have trouble identifying fish! Apparently, restaurants and grocers all over New York are mislabeling their seafood, causing those who try to purchase and consume fish in a responsible, sustainable manner to be super pissed off.
GrubStreet: You know who we can count on to weigh in on the gender politics of cannibalism? Jim Gaffigan. Levels Jim, "I'd probably only really want to eat women and not men. I wonder, because that's interesting, if we get to the point when we're eating people, would gender be an issue? Would we be like, 'Wow, you're eating guys. What does that mean? Not that there's anything wrong with eating a guy. I have friends who eat guys. I've got a sister who eats girls. It's not that big of a deal.'"
Serious Eats: Alton Brown wants recipe writing to be like cartography. He doesn't want to give you directions to Omelette-ville; he just wants to give you the latitude and longitude, so that you can find it organically, and then, once there, look around, and survey the other foods in the area, like souffle. Yeah, we have no idea what he's talking about, either. Just watch the video.
Travel Channel: Travel Channel just greenlit two new food shows — All Forked Up, which pairs dueling food critics Al Mancini and John Curtas in a "food feud" exploring the culinary topography of different cities (see what we did there, Alton?), and Burger Land, which follows George Motz on his quest to find the ultimate burger. No Cadillacs were endorsed in the making of these shows. (Just kidding, we have no way of knowing that.)
Have a tip we should know? tips@mediaite.com