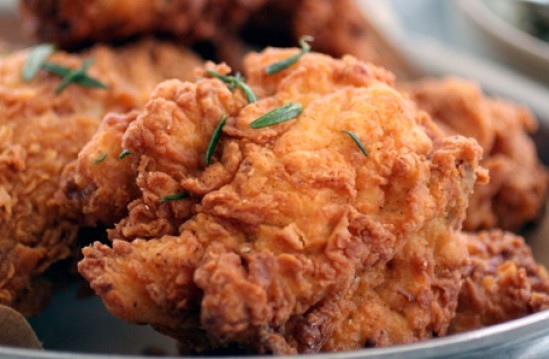 Grub Street NY: This Father's Day, give your beloved Dad the gift of waiting angrily in line for Sunday Brunch at Bouchon New York City, because it's the only time you'll ever get to have Thomas Keller's famous Ad Hoc fried chicken on the East Coast, ever. Then throw your hands up in the air in frustration and just go to freakin' KFC, like your dad insisted on doing in the first place, and why are you so obsessed with food, is this a young person thing?
HuffPost Food: This viral video by David Ury about the "Double Duck Burger" on the legendary secret In-n-Out menu is not so much comedy as it is pure food jealousy. Ury goes for full-on realism and actually puts lobes of foie gras into a Double-Double, which he then EATS IN UTTER ECSTASY, with the camera trained directly on his orgasm-face. Why, David Ury? Why do you do this to us?
Eater NY: Eleven Madison Park chef Daniel Humm and general manager Will Guidara have seized control of the NoMad Hotel's rooftop and will open a full-service restaurant with six-course tasting menus during the spring and summer months, instead of doing the rooftop lounge thing. Sigh. That's one less rooftop lounge for us to lounge on, roof-style.
The New Potato: Michael Chiarello has lots of chef friends, but when they all compete on Top Chef: Masters together, don't expect to know how good they are when they cook things like gummy bears or saltine crackers. "It's not Survivor," he says.
SeriousEats: You'd imagine French uberstar Alain Ducasse, what with his mastery of classical technique and his multiple Michelin stars, to be dismissive of New York's ADD-esque obsession with culinary trends; but he's surprisingly cool with it in this serene interview: "I can't imagine New York any other way."
Amateur Gourmet: Adam Roberts, the original food blogger (aka the O.G.), announces that his next cookbook is a compilation of the lessons he received from cooking with famous celebrity chefs such as Alice Waters, Jonathan Waxman, Hugh Acheson, Daniel Patterson, Lidia Bastianich, and way too many other famous names to fit into Last Call.
Have a tip we should know? tips@mediaite.com