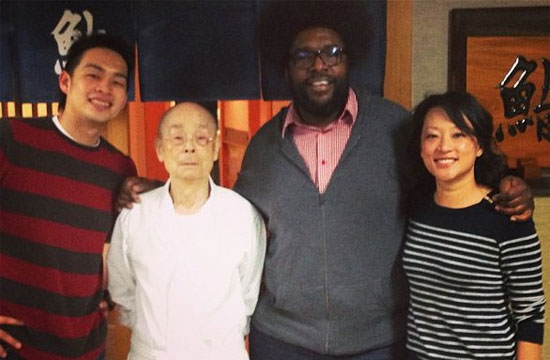 Grub Street: Grub Street got a few words in with ?uestlove at the premiere of Beyonce's Life Is But a Dream, and, naturally, they grilled him on his recent trip to Jiro Ono's restaurant. ?uest's main motivation for going? To stick it to those Radiohead d-bags who were constantly texting him boasts about how they got in without a reservation — twice!
The Chicago Tribune: After the live auction of his restaurant's furniture ended up a slight fiasco when he canceled it one-third of the way through, Charlie Trotter will hold a second auction of his eponymous restaurant's property…online. Who'd have thunk? The internet is useful for other things besides porn and gossiping about restaurants!
The Wall Street Journal: Sometimes, David Bouley can slap together piles of fancy hors d'ouvres incredibly quickly, because he's special and a chef. You can try to pull it off, too, but good luck with that.
BuzzFeed: YouTube rapper Steven Jo wrote a ballad to his favorite staple, instant ramen. What can you do with such cheap, tasty noodles, you might ask? We quote: "I gave my girl some noodles so she can have that abortion/'cause I ain't ready for a kid." Weirdly enough, this song speaks to us.
Eater: Last year, the 2013 UK Michelin Guide was accidentally leaked online a week early and now the 2013 Michelin Guide results for France have been leaked. Guys, you can't keep calling it a leak if you're going to do it every time.
New York Post: Steve Cuozzo reviewed Harold Dieterle's latest German/Italian opening The Marrow and he really loses his shit over the hen o' the woods mushroom dish with the epic metaphor: "The mammoth specimen resembles the moon but seems to draw flavor from deepest Middle Earth." Mmm, hobbit 'shrooms.
Have a tip we should know? tips@mediaite.com