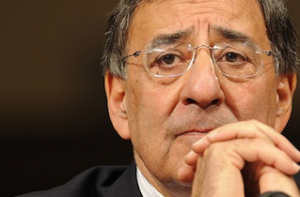 Leon Panetta is leaving his post as Secretary of Defense, but in what was presumably his last press briefing before stepping down and being replaced by Chuck Hagel, Panetta bemoaned the disconnect between Congress and the Obama administration. He criticized Congress for not already dealing with the impending sequester, and said that the nation needs to "look for solutions" and "we can't just sit here and bitch."
RELATED: Candy Crowley Grills Leon Panetta On Benghazi Response Time, Panetta Hits Back: 'This Is Not 911′
Panetta, who served as a member of Congress for 16 years before working for the Clinton and Obama administration, said that he does not feel the current Congress has a "full partnership" with the administration.
"Often times I feel like I don't have a full partnership with my former colleagues on the Hill in trying to do what's right for this country. I don't pretend we always make the right decisions, [but]… what I look for is members willing to work with us. We need to look for solutions. We can't just sit here and bitch… We have got to solve real problems facing this country."
He also decried the "meanness" at the hearings for his successor Hagel by Senate Republicans. Panetta said that typically, despite differences between the parties, there is always an understood "mutual respect" and courtesy in such proceedings, and he believes that the Hagel hearing was a sign that such courtesy is "breaking down."
Panetta today also announced that the Pentagon is creating a medal specifically to honor individuals in the military who work as drone pilots.
h/t CBS News
—–
Follow Josh Feldman on Twitter: @feldmaniac
Have a tip we should know? [email protected]
Josh Feldman - Senior Editor