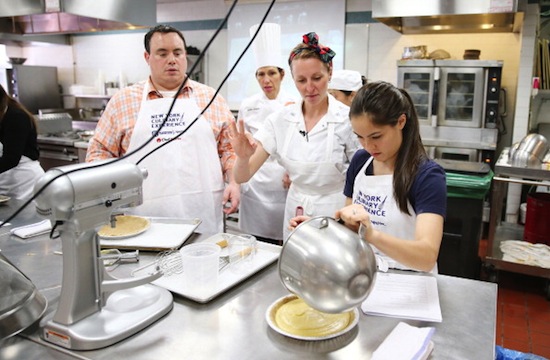 Food & Wine: For real though, Christina Tosi has some made fashion game, if we are to buy any of her shopping picks. (Like that Marc Jacobs bag? Drool.) Says Food & Wine, "[Tosi's] fashion picks are perfect for women who love fondue parties and a DIY approach in the kitchen." WE'LL MAKE YOU FONDUE CHRISTINA!
Business Insider: Speaking of more chef-picked holiday gifts, Gramercy Tavern's Michael Anthony shared his culinary gift wish list too. The cheapest thing on the list is the $55 "Besh Box" curated by John Besh, and then a $65 ham, but the rest of it is crazy mad money — $600 for steak knives? $370 CSA box? $250 Crueset pan? Yo Michael, feel free to buy us Christmas presents any day you want.
PBS: Your Alice Waters quote of the day: "And I always say that if you go to the farmers market on a weekend, and you buy really delicious-tasting fruits and vegetables, all — all other things as well, a nice organic chicken, you can very easily cook during the week, because you have ingredients that have taste." More of her informative interview here.
Philly.com: We're not totally sure what to make of this "knockout game" everyone is talking about (because our pretend boyfriend Chris Hayes told us that even the police are saying the media is overblowing this "trend" out of proportion and that the more we the media talk about it, the more kids are enticed to do it), but here it is: a Manhattan chef was the victim of this supposed knockout game when attacked in Philadelphia earlier this week. Diego Moya, of Casa Mono, is recovering after being knocked unconscious and having his jaw wired shut after surgery — ouch.
Los Angeles Times: The hippie in us is really excited to see how some restaurants are dealing with food waste — even if customers are going to bitch and moan about an extra fee for food leftover on the plates. If it's an all-you-can-eat-buffet, people, RELAX — you really don't need the 12th slice of garlic bread.
Eater: THERE'S SUCH AS THING AS INSTAGRAM MARSHMALLOWS NOW. Our hot chocolates will never be the same.
Have a tip we should know? [email protected]