Here's the Youtube Video Removed from Food Network Star Lenny McNab's Channel (NSFW Language)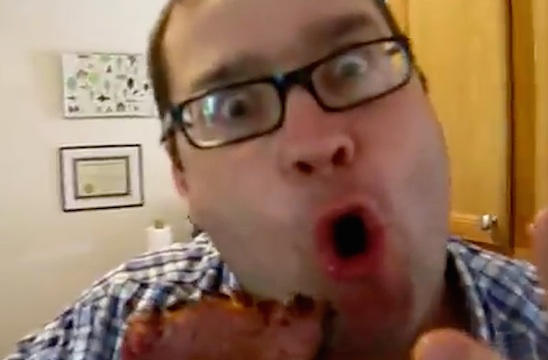 When we first heard word of the rumors surrounding newly crowned Food Network Star Lenny McNab, we heard there were videos involved. Food Network Gossip noted many of the videos were taken down, including one where "he was cursing while cutting brisket, and the video included words such as the big C word." So you know where this is going, right? We now have a copy of that video that was taken off of Youtube. (NSFW language ahead and weirdness — you've been warned, judging by that screenshot.)
From our tipster, who sent us the copy of the video:
The real "fun" doesn't start until mid way through when he starts hurling obscenities including the offensive "c" word and then practically molests a pot of creamed corn. …

The person he calls a "dirty little c*nt" is "Hot Tub," one of the posters on that offshoot of the Ron & Fez chat board. When he starts acting weird at the end people have said he's trying to imitate pro wrestlers.

Note that he doesn't or sound look anything like the fake "cowboy" he's playing on Food Network. He and his hipster glasses and New Hampshire accent are about as far away from that as you can get.
Please enable Javascript to watch this video
We've seen some rumors flying around the Food Network website that this video may be filmed as long as five years ago.
We've reached out to the Food Network again to comment.
RELATED: Reports Link New Food Network Star Lenny McNab To Some, Uh, Sordid Online History (with NSFW Updates)
Allen Salkin on FN's Culture Crisis: 'The Network Itself Doesn't Know What A Food Network Star Is Anymore'
Have a tip we should know? tips@mediaite.com