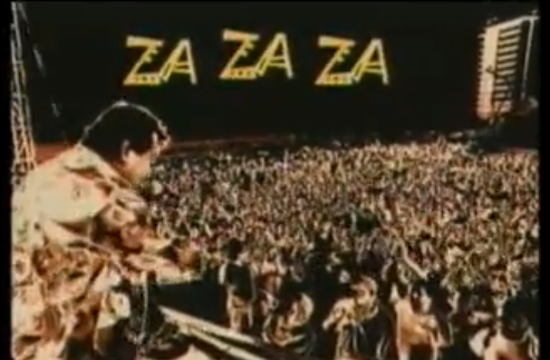 Did you pregame your Cinco de Mayo (or Derby!) weekend so hard that you forgot to make a playlist for your actual party? One, good job. And two, never fear — we've got the chefs who wrote yesterday's Cinco de Mayo recipes to suggest things to listen to while you take tequila shots. Even better: we put it in a Youtube playlist below!
Check out who suggested what below, and applaud their good taste. (We're looking at you, Justin Warner.)
Marcus Samuelsson: We'll have live merengue music from Johnny Mambo and his Latin band.
Bobby Flay: I am hip hop everyday, any day, no matter what day it is… So Jay-Z, Drake, and some Dr Dre and Snoop… When I have my tequila on, the old school sounds better than ever.
Andrew Zimmern: La Santa Cecilia, love that band, they make a cameo in Border Check, they have a new album that's awesome BTW.
Nadia G: The Wailers, Lord Kitchener, Santigold…
David Santos: I'm more of a classic rock and blues man so those are the things usually on my playlist. But I do enjoy the sounds of Richie Valance quite a bit and La Bamba was one of my favorite movies growing up.
Justin Severino: Black Keys, Flaming Lips, James Brown, Led Zepplin, A Tribe Called Quest to name a few…
Kevin Gillespie: The Gunshow playlist on Spotify.
Justin Warner: No Hay Nadie Como Tu. It's by Calle 13. Also Climax's Mesa Que Mas Applauda on repeat forever.
Karine Backhoum: "La Bomba"; "Tequila"; Madonna's "La Isla Bonita"; Harry Nilsson's Coconut; Santana with Michelle Branch's "Game of Love"; Marvin Gaye's Got to Give it Up; Lady Gaga's "Alejandro" and "Señorita" by Justin Timberlake; Rupert Holmes' Piña Coladas; Black Eyed Peas; Earth Wind and Fire; Santana; David Guetta; Gypsy Kings; Shakira; The Eagles; Black Eyed Peas; The Eagles; Pink and Seal among others.
Have a tip we should know? tips@mediaite.com