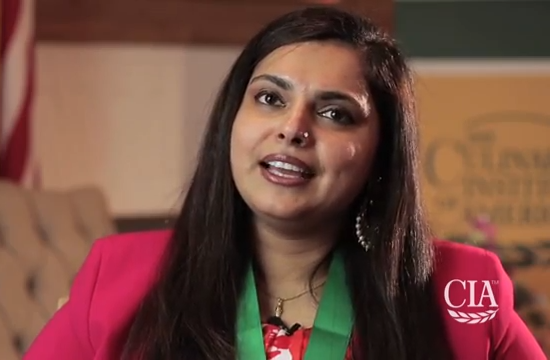 Taking a cue from Delta, American Airlines is the latest to tap celebrity chefs for in-flight food. They've hired Maneet Chauhan, who you know from Chopped, Sam Choy, Julian Barsotti and Mark Sargeant to handle food on international flights. Chauhan will be in charge of the flights that leave from the United States, and Sargeant will be in charge of those leaving from the U.K. Barsotti's food will be served in premium cabins on flights within the United States, and Choy's will be on flights to and from Hawaii. Between them, they have a ton of restaurant and television experience as well as a Michelin star (Sargeant).
As Fran Fernandez, VP of global marketing at American Airlines said, airline food has been "stagnant" over the last few decades. Hopefully these chefs will be able to change it up and make it better.
Changing airline food doesn't come without significant challenges. Making food in a restaurant kitchen, is difficult. In a studio apartment, it's slightly more difficult. Cooking good-tasting food in mass quantities in a catering facility and tossing it into an airplane galley, and then serving it at 30,000 feet is next to impossible. Danny Meyer's Union Square Hospitality Group is taking everything about airplane food and turning it on its head by understanding its limitations.
American Airlines will also be focused on local and seasonal ingredients when possible. In order to do this, kitchens in major travel hubs will have to source food differently and more carefully. A new era of airline food is certainly upon us; expect to see other major airlines follow suit.
Have a tip we should know? tips@mediaite.com