WATCH: Mark Bittman Shushes Savannah Guthrie To Participate In A Ménage À Peppers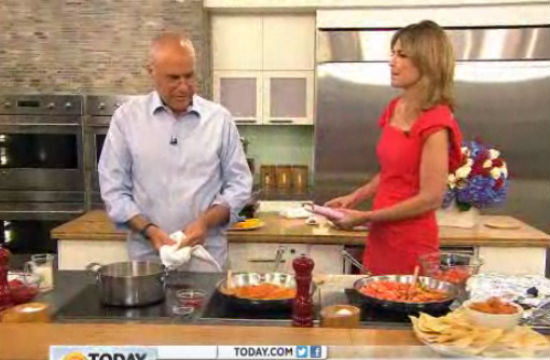 We want Mark Bittman to invite us to his apartment for wine. It just seems like something we'd do together. Plus, we'd let him finish a dish before rushing him to the next course, unlike certain Today Show co-anchors who don't seem to understand how crucial adding the red wine vinegar to your roasted pepper salsa is before moving on to the roasted pepper bisque.
Mark stopped by The Today Show this morning to demo a trio of pepper dishes, since the crunchy veg is at its peak sweetness in our current deep summer months. Unlike some celebrity cooking demonstrators, Mark is a consummate professional, frequently dropping in on Today as their "How to Cook Everything" correspondent. He knows what three and a half minutes feels like and he knows what he can show in that time. Any attempts to hurry him will make you look bad, Savannah Guthrie. Before he could put the finishing touches on his first dish, a pepper salsa, Savannah tried to pull a "yum! That looks great! Let's move on!" and was halted by Bittman till the salsa was properly seasoned.
She learned from her early mistake and moved at Mark's pace through a bisque demo and a colorful sauteed trio of peppers presentation, other than giving him a gentle reminder of only having 30 seconds left. Of course, Mark pulled it off without a hitch and the demo finished comfortably within its given time slot. People, you cannot push your perky, high-strung, early morning agendas onto Mark Bittman. The man won't stand for it.
Call us for a glass of vino whenever, Mark! We'll gladly help rebalance your mellow and bring some hard cheeses and prosecco jelly while we're at it. Check out the clip below for Zen and the Art of Roasted Pepper Dishes.
Visit NBCNews.com for breaking news, world news, and news about the economy
Have a tip we should know? tips@mediaite.com