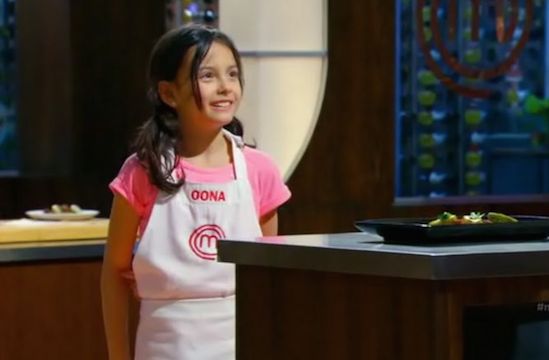 It's back it's back it's back: our favorite cooking competition show, MasterChef Junior. Why, you ask, do we get so excited to see little rugrats run around the kitchen whipping up mousselines and what not? Because these kids will forever outrun us in the kitchen — and we mean that seriously — while still retaining that wide-eyed innocence. Ah, youth.
Perhaps we're just over the whole douchiness of every other reality cooking show out there (see: "The Recipe for the Perfect Douche Soufflé," via Top Chef's Aaron and Yahoo Food). It's nice to just see kids so inspired and excited to make food. And Gordon Ramsay, clearly evolving from his Kitchen Nightmares and Hell's Kitchen angry man character, is making good on his part to play nice and encourage these kids' hopes and dreams. We can even imagine him in the kitchen with his children (whom he references to calm down the first freaked-out cheftestant in the premiere) and having fun. That's a nice, yet slightly bizarro world, thing to imagine.
And also, the kids are adorable. Almost, if not more so, more adorable than last year's kiddo cheftestants. (No Dara bows this year, but we think we can become fast friends with Abby and Oona.) The most adorable moments from the last night's premiere:
1. The kids running to the front door — SO adorable.

2. Abby, age 8, admitting that her kitchen was "not as big" as the MasterChef kitchen. Very wise observation there.
3. The kids losing their MINDS when MasterChef Junior winner, Alexander, walks into the room. Whoa guys, settle down now! He's no Michael Chernow here! (Or insert the hottie chef of your choice.) Even Natalie is fan-girling a bit here.
4. The kids can't even lift up the mystery box!
5. Oona is the grown-up version of Sarah, for sure. Precocious without being obnoxious.
6. "There's a lot of responsibility on our shoulders," says Samuel. Oh Samuel, you and your little man vest. Responsibilities as a 12-year old? Adorable.
7. Gordon Ramsay when responding to the first meltdown of MasterChef Junior. "I'm not leaving until you laugh," he says to Coco, to remind her that cooking should be fun when you're just a kid!
8. Abby is really just the Zooey Deschanel of the competition. And we love it.
9. Natalie, who would be the CeCe to Abby's Jessica Day. (New Girl references, get it.) So classy, so put together.
10. JOE BASTIANICH CARRYING A CHICKEN. That face!!! Such a devilish grin! Dying inside. And then GRAHAM ELLIOT CARRYING A DUCK! Oh such joy. (Turkeys are apparently really evil, as it almost takes out Ramsay's eye.)
11. Kids screaming over the live livestock. Yes, they do smell bad. And good thing they left the turkeys out of it.
12. Logan, age 11: "Chickens are pretty nice people." Aw, honey.
13. Oona saying she's been wanting to make a chicken liver pate since she was six years old. She's nine years old. Who ever wants to make a chicken liver pate at nine years old?! We still thought chicken fingers were the best things in the world at age nine.
14. Sweet little Isaballa, whose chicken parmesan is raw. Everyone's faces fall. And all the kids rally around her. "Not all of us are A+ students all the time!" says Abby.
15. Samuel wants to redeem his "culinary supremacy" in the kitchen. Keep at it now, Samuel; you can't say that shit later and not appear like a douche.
16. Everyone of the kids sent home — Coco, Nasir, Isabella, and Berry — and the grace with which they took the news. Only kids can act that cool under pressure and in defeat — because let's be real, we all know that grown-ups these days are the worst.
RELATED: MasterChef Junior Winner and Dominique Ansel Made Cronuts Together
Our Favorite MasterChef Junior Is Back, Being As Awesome As Ever
WATCH: And the Winner of MasterChef Junior Is …
Have a tip we should know? tips@mediaite.com