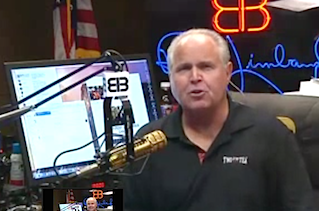 Rush Limbaugh celebrated "one of the most important and unquestionable mandates a political party has ever had" Wednesday morning by laying out exactly what he thinks the Republicans' Senate victory will mean moving forward. While GOP leaders are currently talking up their plans to compromise with President Barack Obama, the conservative host predicted they will spend the next two years obstructing the president more than ever.
"It is rare that a political party running for office in a midterm election not standing for anything ends up with a mandate, and they have one, and it is the biggest and perhaps the most important mandate a political party has had in the recent era, and it is very simple what that mandate is," Limbaugh said Wednesday morning. "It is to stop Barack Obama. It is to stop the Democrats. There is no other reason why Republicans were elected yesterday. Republicans were not elected to govern."
In fact, Limbaugh said it would be impossible to "govern" with a president in office who "disobeys the Constitution" and "is demonstrably lawless."
"Yesterday's result cannot in any way mean that voters want Republicans to work with Democrats," Limbaugh said. "And anybody who tells you that and anybody who thinks that could not be more dangerously wrong."
Of course, the soon-to-be Senate Majority Leader Mitch McConnell (R-KY) is already talking about finding issues on which Republicans can work with Obama, such as trade and tax reform.
"It can't be said that there was an ideological component to the mandate, because the Republicans did not run on ideology," Limbaugh admitted. "The Republicans ran everywhere to stop Obama, and that's what the mandate is."
Listen to audio below, via The Rush Limbaugh Show:
[Photo via screengrab]
— —
>> Follow Matt Wilstein (@TheMattWilstein) on Twitter
Have a tip we should know? tips@mediaite.com