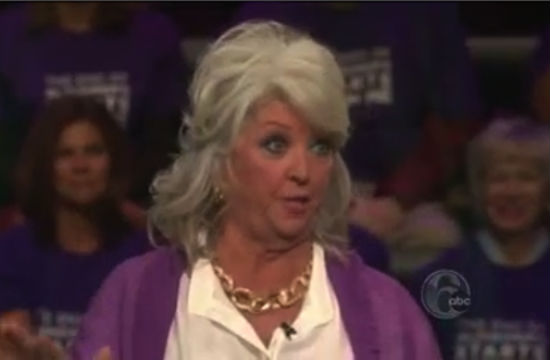 According to a former employee, Paula Deen doesn't just want the black men at her Southern plantation weddings to dress like slaves, she actually compensated them exactly like slaves: with no money! Y'know, to help them really get into character.
This disappointing news comes from former Bubba's Oyster House oyster coook, Sheldon J. Ervin, who worked for the Deens between 2008 and 2010, and alleges that Deen would constantly require the black men who worked in her restaurants to serve at catering events at her Southern mansiom, and would compensate them in beer and liquor.
"I used to work for her parties and I spent so much time there I could go there today and punch in the code to her gate," Ervin told RadarOnline, adding that he'd filed an Equal Employment Opportunity & Diversity complaint against Deen. (Lest we remind you, not compensating employees is illegal as whoa.)
At all of the parties, Ervin, a newlywed with a baby on the way at the time, was never compensated. Even worse, that "black tie and white jacket" fantasy of Deens was actually the uniform she made sheldon and other staffers wear. Like at this graduation party he describes:
"Paula was hosting a big graduation party for someone. It was all on the news and everything."
Sheldon and three to five other African American men "spent like three days setting up for that party," he claims. "I didn't want to, but they threatened our jobs and put it on the line."

"They told us we all had to wear black slacks, black shoes and a white chef jacket with a hat," he reveals. "If we didn't have the money to buy it, they said they would give us the money to go buy it. I didn't want to wear it because it was burning hot outside, but Miss Paula insisted."

"Paula had us all stationed at a few shady spots in the yard," he says. "She wanted us all to stay in one spot. We weren't allowed to move. They didn't want us to interact or anything. They just wanted us to sit there and serve everyone and not say anything."
And what was wrong with a little extra beer as compensation? "I don't even drink," Ervin clarified. "It was insulting and unfair. I was like, 'Pay me!'"
While all cater-waiters are required to dress in a uniform, this one comes off a bit unseemly in light of Paula's plantation-themed party fantasies. Requiring staffers to work for free, also in light of her 'ain't slavery grand' statements, strikes us as worse than dropping a few emotionally-charged N-words.
Have a tip we should know? tips@mediaite.com