Robert Irvine And Secret Celebrities Pull A Restaurant: Impossible for Michelle Obama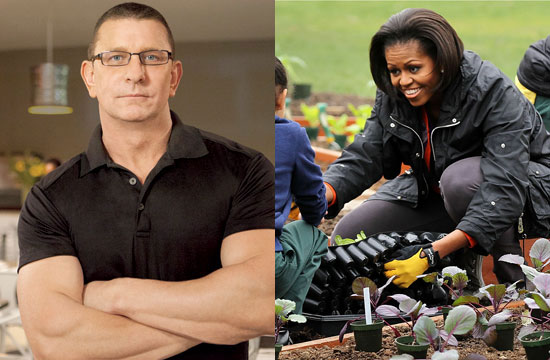 When you're the First Lady and you've been launching a nationwide campaign against childhood obesity, and you need to renovate a struggling community center in two days on a $10,000 budget, who ya gonna call?
Apparently, you call Robert Irvine to film a Very Special Episode of Restaurant: Impossible . You also call a bevy of other "special guests" to help out, too. Who are they?  We don't know. Obama Foodorama reports that to keep the production "veiled in secrecy," these special guests were required to sign $1 million nondisclosure agreements. Oooooooh!
The episode, focusing on the objectives of the Let's Move! campaign–healthy eating, cooking, and gardening–filmed earlier in March, so we have no way to stalk Robert Irvine and find out what children he screamed at while he was renovating the Horton's Kids Community Center in Washington, DC. It airs June 13th on the Food Network.
Oddly, the fact that Robert Irvine is cooking for a prominent member of the White House is ironic given how his first show Dinner: Impossible was canceled. Buried in the middle of an avalanche of elaborate, not-really-true-and-mostly-false claims he'd made about his culinary career (Making Princess Di's wedding cake! Being knighted! Receiving a castle in Scotland from Queen Elizabeth!), was a claim that he'd personally cooked for multiple US presidents, and was responsible for state dinners.
Former White House Executive Chef Michael Schieb, however, remembers things differently. Very differently. According to him (and as confirmed by the White House), Irvine worked in the Navy Mess in the West Wing, the equivalent of a cafeteria for staffers. Hardly glamorous, by Executive Branch standards. As Schieb testily confirmed to the Tampa Bay Times back in 2008, "Never in the period from 4/4/94 until 2/4/05 did [Irvine] have ANYTHING to do with the preparation, planning, or service of any State Dinner or any other White House Executive Residence food function, public or private."
At least with this episode, Irvine can claim that he cooked for the First Lady — well, technically, she asked him to cook something, and he obliged.  No word on whether she actually consumed his creations, though.
Have a tip we should know? tips@mediaite.com