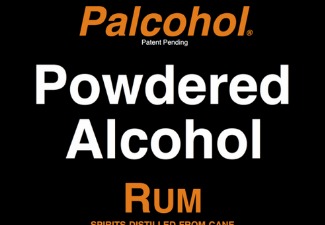 Evidently, the U.S. Alcohol and Tobacco Tax and Trade Bureau has given the OK for a powdered alcohol product. Because an alcoholic product that could easily be confused for a Crystal Lite package CLEARLY WON'T CAUSE ANY TROUBLE, RIGHT GUYS? *facepalm*
But for real, despite some of the very clear legal challenges this kind of product presents, the "Palcohol" alcohol brand is a go-ahead, with seven powdered alcohol flavors in the works. Reports the beverage blog Bevlog, the product really is a "just add water and start boozing" kind of product. While the patent is still pending, Bevlog questions whether or not the company will actually get the go-ahead, because powdered alcohol products already exist in Germany, Japan, and the Netherlands. We ask: how did we not know so many versions of powdered alcohol exist?
But also, Palcohol advises you to add powdered alcohol to your meals, too, so we're just going to go ahead and assume that this company will shoot itself in the foot before it gets on shelves.
… We have found adding Palcohol to food is so much fun. Sprinkle Palcohol on almost any dish and give it an extra kick. Some of our favorites are the Kamikaze in guacamole, Rum on a BBQ sandwich, Cosmo on a salad and Vodka on eggs in the morning to start your day off right. Experiment. Palcohol is great on so many foods. Remember, you have to add Palcohol AFTER a dish is cooked as the alcohol will burn off if you cook with it…and that defeats the whole purpose.
Uh, we're good.
RELATED:
WATCH: Art Meets Dumb Meets Man Stereotypes in This Odd Bourbon Ad
Vodka Is A Liberal Drink, Claims Republican Research Firm Drenched in Scotch
Wine for Cats: It Now Exists
Have a tip we should know? tips@mediaite.com