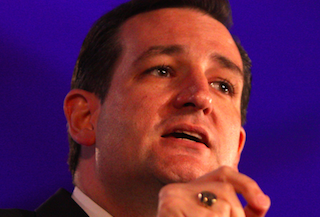 This week's POLITICO Magazine contains an uncharacteristic show of gratitude from Sen. Ted Cruz (R-TX) to President Barack Obama. Under the headline "A bipartisan message to Iran," the senator thanks the president for signing his S 2195 bill into law, which prevents anyone who has engaged in espionage or terrorism against the U.S. from gaining entry to the country via the United Nations.
"Thanks to President Obama for joining a unanimous Congress and signing S 2195 into law," Cruz begins his piece. By giving the president "the authority to deny visas to United Nations ambassadors who are known terrorists," he says "the government of the United States has thereby sent an unequivocal, bipartisan message that we will not tolerate the ongoing campaign of insult and antagonism from the Islamic Republic of Iran."
The rest of the essay focuses mostly on the content of the bill, but does also touch on the "partisan gridlock" that has brought Washington to a practical standstill on many issues. "Washington has, with some justification, gained a reputation for being hopelessly mired in partisan gridlock," Cruz writes. "But it is nothing short of inspiring to find that when confronted with such blatant evidence of Iran's virulent anti-Americanism, we can stand together as one in the defense of our national security."
In addition to thanking President Obama, Cruz gives credit to Rep. Doug Lamborn (R-CO), who introduced this bill in the House, and Senators Chuck Schumer (D-NY) and Lindsey Graham (R-SC).
[photo via Wikimedia Commons]
— —
>> Follow Matt Wilstein (@TheMattWilstein) on Twitter
Have a tip we should know? tips@mediaite.com