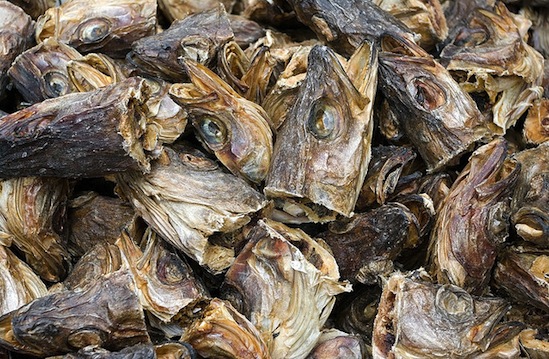 As part of the food media, it's our job to keep up with what everyone says is the newest and hottest thing. After all, who would have predicted in 2012 that Dominique Ansel would control our every desire with a pastry, and that we'd somehow find a way to make ramen even more unhealthy — by slapping a burger on top of it? So we read these hundreds upon hundreds of "food trends in 2014" pieces to see what's going on … and it doesn't all look good.
The food trend pieces being published this month have ranged from very in-depth and analytical (like the National Restaurant Association's survey of 1,300 chefs), to very vague and kind of hilarious (like Forbes' slideshow: "Better pizza!" "Chicken wings!" "Gluten-free!" No shit, Sherlock). And really, only one publication, The Week, calls it for what it really is: "2014 could be a terrifying year for disgusting food trends." AND THEY'RE RIGHT! If we are to believe some of the things food publications are telling us we'll be eating in the next year, we're going to forever hide in our Cronuts and Ramen Burgers until it all blows over.
In short, this is our very unscientific opinion of what we will not be eating this year, thanks to the food publications of the world. Or, in other words — go home, food media, you're drunk.
The Week: Horse meat, fish heads, and bugs
Yes, yes, and yes. Props to The Week for telling us what we already know — this shit is going to get nasty long before it gets good.
CNN Eatocracy: More insane fish we've never heard of
Heads and collars, which are the section of flesh and pectoral fins behind the gills … are bubbling up on menus from New Orleans to Nashville to Atlanta and beyond. Once mainly the provenance of sushi chefs, this easily-crisped section of fish is catching on with diners weary of belly and sides. Heads – especially the sumptuous cheek meat and the full-bodied stock they produce – are a must in many Hunan dishes, Malaysian curries and traditional Gullah recipes that are in the midst of a much-deserved renaissance.

And you can't catch the big seafood stars (like cod, shrimp and salmon) without snagging some tagalongs with them. Eco- and budget-conscious eaters are discovering the virtues of varieties like triggerfish, porgy, drum, wolf eel and sand dabs, which would previously have been tossed back, discarded, ground into organic soil amendment or turned into fish sauce.
Hey, if Eatocracy can convince us that this stuff is good — even Husk is doing it — then we'll try it, albeit cautiously.
The Daily Meal: "Invasive species"
What now?
Back in August, the Institute for Applied Ecology hosted an Invasive Species Cook-Off, and in 2014 you can expect to see more locavore chefs doing their part to do away with invasive species by finding creative ways to prepare ones like snakehead fish, Asian carp, weeds like dandelion, and other plants, birds, shellfish, and mammals.
Oh good.
Kitchen Daily: The "Indie Woman" trend
Move over, housewives — cooking for the millennial single woman is here!
Phil Lempert, Supermarket Guru's expert analyst on consumer behavior, recently released his top ten food trend predictions for next year. At the top of his list is the emergence of the "Indie Woman," describing over 30 million women ages 27 and over who live alone, have no children, are focused on building their careers and spend more than $50 billion yearly on food and beverages. Expect to see brands cater to this demographic with semi-homemade meals and healthy frozen dinners.
No thanks — we can figure out our own shit on top of making a healthy, homemade meal. (But it's OK, Kitchen Daily — if you tell us that we should be eating more ice cream sandwiches in 2014, we'll take your advice very seriously.)
Fox News: Restaurants in retail stores
…The restaurant in Tommy Bahama's New York flagship sells hamachi crudo, coffee-crusted ribeye with marrow butter and fish tacos with Asian slaw. The café in Urban Outfitters' Terrain home-and-garden shop offers scallops with preserved lemon, and duck with bruleed strawberries. In Chicago, Saks is opening its first Sophie's global-American restaurant and Brooks Brothers will build a 15,000 square foot steakhouse in New York called Makers and Merchants.

Why add a restaurant to a retail store? According to the report, giving shoppers the ability to drink and eat increases the time that they linger in the store. More time equals more purchases. The report backed up its claim with evidence. According to Baum & Whiteman, Tommy Bahama's stores with restaurants generate two-and-a-half times the sales per square foot.
We don't really need to buy ironic t-shirts while eating scallops, thanks. Le sigh — we're already nostalgic for the days when just Cronuts ruled our brainwaves.
RELATED:
7 Food Books We Were Gifted This Year That Didn't Suck
The 6 Biggest Culinary Scandals of 2013
Breakfast Links: Oh Good, the 2014 Culinary Trendcasts Are Here (Ugh)
Have a tip we should know? tips@mediaite.com