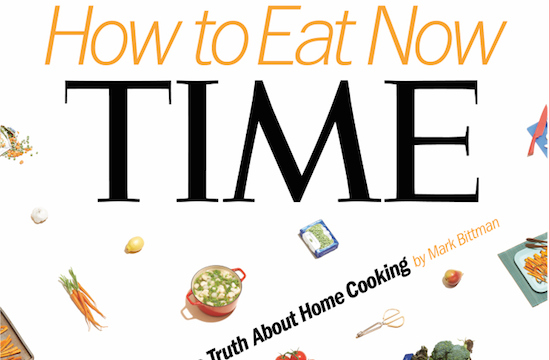 Oh wait, it's a cover dedicated to Mark Bittman … and his new cookbook … And still uses celebrity chefs (and oh hey, one female!) to drive their points home, because nothing could possibly go wrong with that. Excellent.
You'd think by bow TIME may just like, bow out for a hot second and leave food off the table of coverage, but here's yet another issue dedicated to food. This time, it's about home cooking with Bittman, and also the future of food. And does Bittman immediately reference the rise of the celebrity chef mere months after TIME's debacle of the "Gods of Food?" Well, yes. Because evidently, not even the best celebrity chef is going to get us out cooking:
Just two generations ago, preparing meals was as much a part of life as eating. Now we've given up what is perhaps our best excuse to get together and spend time with the people we love—mealtime—and someone else stands at the stove. We're either watching cooks on TV like we would a spectator sport or grabbing grub, bagged, and eating it alone and on the go.

The fetishizing of food is everywhere. There are cutthroat competitions and celebrity chefs with TV shows, and both social and mainstream media are stuffed with an endless blur of blogs, demos and crowdsourced reviews. So why in Julia's name do so many Americans still eat tons of hyperprocessed food, the stuff that is correctly called junk and should really carry warning labels?
Right, we're just the fatties who'd rather watch Top Chef and order on Seamless. Mmmk.
Moving on to the rest of the issue, there are chefs Daniel Patterson and Corey Lee acting as talking heads for the future of food, alongside some other experts. (Hey, you one female, you!) And in line with today's theme of chefs effecting social change, Rene Redzepi (no stranger to TIME) got a little online op-ed about the future of food. It's got it all — insects, plant kingdom, Solyvent, and eating what tastes good. In truth, the food coverage in the whole issue feels about as bland as an unseasoned piece of meat. (Or crickets, or whatever.) But hey, when you piss off foodies and, you know, women, once before, perhaps your magazine isn't really going to rock the boat with anything insightful on food anyways.
RELATED: Food & Wine to Publish All-Female Issue This January, a Huge Coup for Women Everywhere
Fortune, Food & Wine Name '25 Most Innovative Women in Food,' Gives Us Conflicted Feelings
TIME Magazine Writes Article About How Their 'Gods of Food' List Excluded Women, Eats Itself
Image via Twitter
Have a tip we should know? tips@mediaite.com